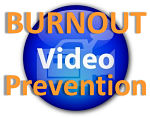 The Relationship Between Physician Burnout, Stress and Performance - Video Training
In the Burnout Proof Live Training I always field the question, "Isn't stress a good thing too?". Here's the answer ...
It depends
Stress can motivate or destroy performance. It can drive a physician to do the best for their patients becoming the personification of the Hippocratic Oath ... or leave them curled on the floor in the fetal position too burned out to take another step. It does all of these things depending on where you are on the Stress vs. Performance Curve.