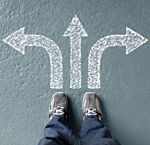 Mayo's physician burnout super-study finally released their third round of data from the 2017 survey.
The third shoe has dropped, but what does it all mean??
This was that infamous first study documenting burnout rates above 50% in US physicians in Mayo Clinic Proceedings using US physician burnout surveys performed in 2011 and 2014 compared to burnout in the general US population.
It is probably the single most important data point in the birth of the movement to track and address burnout in physicians. That movement has spread far and wide since 2011, culminating in the current wave of industry-wide confabs like the NAM Action Collaborative on Clinician Wellbeing and Resilience.
==========
This is Blog Post #292
Complete Blog Library is Here
==========
Since 2014 we have been waiting patiently for that third round of surveys to report out. Show us the 2017 data please, please, please ... and here it is.
READ MORE NOW