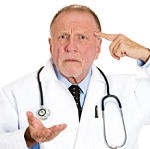 Physician Burnout - Stop Asking the Wrong Question
In this post you will learn a fundamental mistake all doctors (and physician leaders) make about burnout and how changing the questions you ask will make all the difference.

[HINT: Physician burnout is not a problem. When you stop looking for a solution you will see the simplicity of a burnout prevention plan that really works - for you, for your family and for your organization]

============
I am often asked,
"What is the SOLUTION to Physician Burnout?"
On the surface it would seem a natural question for any doctor or physician leader to ask ... right? It would be swell if there was a solution to this issue -- you know, the one thing you can do one time to make physician burnout go away.

Unfortunately, that question contains an hidden assumption that messes everyone up right from the start.
Asking for a Solution assumes physician burnout is a Problem
That assumption is where doctors and physician leaders set themselves up for struggle. Here is the truth:
Physician burnout is fundamentally NOT A PROBLEM
There is NO SOLUTION
You can prevent and treat burnout, however you will need a different word that starts with the letter "S"
Read More