The #1 Live Burnout Prevention Training in the Healthcare Industry - The Burnout Proof LIVE Workshop
Over 25,000 physicians trained for over 135 corporate, association and society clients to date

========================
CLICK HERE to Start Planning an Event for Your People
========================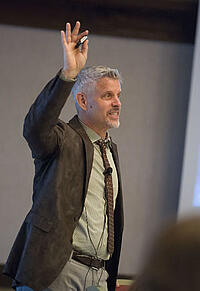 - Learn Proven Tools to Recognize and Prevent Physician Burnout
- Not Just Another Boring Lecture - Fun, Interactive, Entertaining, Memorable
- Launch or Re-Energize Your Physician Wellness Program
- Deliver a Powerful Message that You Care
=============
What just one of our clients is saying ...
Edward Ellison, MD
Executive Medical Director - Chairman of the Board
Southern California Permanente Medical Group (SCPMG):

"We asked Dr. Drummond to train all 6,000 of our physicians. His energy and ability to communicate the training principles with impact and humor never flagged despite 13 full training days with our people. His training gave us a common language to use when talking about stress and burnout and a real sense of enthusiasm that there is a way forward."

========================
CLICK HERE to Start Planning an Event for Your People
========================


Use These QUICK LINKS to Learn More:
3) Video sample of Dr. Drummond delivering a Live Training

4) Our complete PRESENTATION CATALOG

5) Training DELIVERY OPTIONS - one hour to 3 days of world-class content

6) Speaking TESTIMONIALS

7) A list of our 134 CORPORATE CLIENTS to date
[ Click Here for a Downloadable Client List ]



========================
CLICK HERE to Start Planning an Event for Your People
========================
SPEAKING TOPICS
Download our complete Presentations Catalog
BURNOUT PROOF LIVE WORKSHOP:
Lower Stress, Build Life Balance and a more Ideal Practice
Over 25,000 physicians trained for over 134 Corporate Clients to date.
Upon completion of this training, all attendees will:
Understand how to recognize burnout in themselves and others

Understand the causes, effects, prevalence, complications and pathophysiology of burnout




Learn Proven Tools to Prevent Burnout

Build a Written Personal Action Plan and Next Step Forward
This is a highly interactive, live training session.
Content on stress and burnout is delivered in small, easily digestible portions followed by discussion in pairs.
[CLICK HERE for the full Burnout Proof workshop description]
Here is VIDEO EXAMPLE of Dr. Drummond in the Burnout Proof LIVE Workshop teaching burnout cause #5, The Conditioning of our Medical Education
Additional Presentations:

- One Minute Mindfulness:
Become the "Eye of the Storm" in your practice day with this research-proven, single-breath mindfulness technique.
- Physician Leadership Power Tools:
Learn simple tools to lead your team and stop working so hard.
- Transforming Physician Resistance to Change:
Master key leadership skills to create and maintain physician engagement.

- Physician's Guide to Navigating a Bureaucracy:
How to get what you need for your Ideal Practice, even when you are not the Boss
- The Quadruple Aim Blueprint Workshop:
Prevent burnout organization-wide with this four part, proactive prevention strategy
========================
CLICK HERE to Start Planning an Event for Your People
========================


That's all for now. We are really looking forward to designing and delivering a high-impact training to you and your people very soon.
Until we connect in person, keep breathing and have a great rest of your day,
Dike
Dike Drummond MD
CEO, TheHappyMD.com