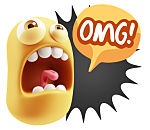 Stop Physician Burnout - when even a scribe is not enough
I was in New Jersey this week working with a group that has several Scribe Pilot Projects in place. I was talking to the physicians about
- How they use their scribes
- The difference a scribe has made to the experience of their practice
And was shocked by their attitude and observations. I can summarize the conversations as follows:
"Sure ... a scribe is great/amazing/awesome ... AND it is NOT ENOUGH"
WHAT ???!!!
That may come as a shock if you - dear reader - do not have a scribe of your own. I suspect it is especially shocking if you think a scribe is the solution to your own stress at work.
Read More