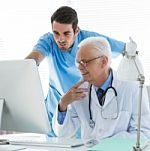 Prevent Physician Burnout - curated resource libraries now available.
When you are aware that physician burnout is not a problem and understand its true nature as a never ending balancing act, it will become obvious you will never find a solution - the key is to focus on building your strategy to maintain balance.
We teach 117 ways to prevent burnout. Each has been proven in the real world by hundreds of physicians in all specialties AND that is a LOT of options to wade through.
We are excited to share our new curated resource libraries so you can cut to the chase and find the best burnout prevention tools quickly and easily.
Use the links below to dive into our curated collections of tools to Get Home Sooner, Build Life Balance and become a More Effective Leader.


1) CLICK HERE for Get Home Sooner Tools
Each of the tools on this page will make sure you actually get home sooner. The library includes our EMR strategy recommendations, BID Huddle power tips, Batch Processing formula, the antidote to Multitasking and much more. All just a click away.