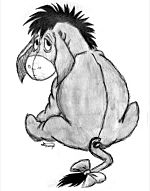 Physician Burnout and the Brain Changes of the Eeyore Effect
Have you ever noticed how everything changes when you are exhausted, burned out or in a foul mood? Even little things get under your skin, you get stuck in traffic, spill coffee on your white shirt, forget your reading glasses ... it all happens on the same day and it is distinctly crazy-making. Have you ever experienced that?
I call it the Eeyore Effect
In this article let me show you the latest functional MRI brain research on the basis of the Eeyore Effect and and give you an extremely simple way to turn it all around.
READ MORE NOW