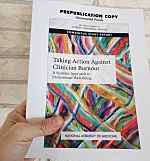 Will recent recommendations of the National Academy of Medicine cause meaningful action to address the burnout epidemic?
What do you think?
What are the odds this six pound consensus statement will
change your daily experience of seeing patients and dealing with the digital Whirlwind of your work day
any time soon?
Will we look back 10 years from now and say 2020 is when everything changed?
Do calls for a "positive work environment" mean anything when there are no recommendations on HOW to accomplish that feat?
What happens in the C-suite when this call to address physician burnout clashes with the organization's drive to maximize profit and shareholder value? (even non-profits must have a margin!)
Those questions will only be answered in hindsight, years from now.
And we believe it is important you see and understand the recommendations being made on your behalf by this impressive gathering of "experts".
=============
Get Your

Corporate Physician Wellness Strategy
Well

MD

Works
3-Step Process is
at This Link
=============
In this blog post let's do two things:
1) Look at a sampling of specific recommendations and what they could mean to you. I promise to focus only on those few sentences in the 300 pages most likely to effect you directly.
2) Give you a copy of the full recommendations so you can do two things:
Print off two copies and carry them with you at all times.
So when the opportunity arises, you can drop them on your CEO/CMO/CFO's desk and ask that they be adopted in your organization. If your boss can be influenced by consensus statements like this, you want to be ready for their teachable moment.

READ MORE NOW