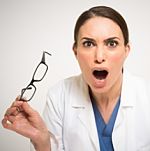 The World Health Organization may have just classified burnout as a disease. I am pretty sure that would be a Very Bad Thing for over-stressed physicians!
Headlines today on the recently concluded WHO meeting in Geneva, are blaring news that burnout has been reclassified as a disease. Here is my input on that potential development.
[this story has been updated, see below]
Let me say right up front that burnout is a NORMAL RESPONSE to overwhelming stress in any person who takes on the role of a helper. For physicians, that role is the core of our professional activities, encapsulated perfectly in the mantra, "The Patient Comes First".
An official disease designation is a Big Deal ... and Not in a Good Way, IMHO
==========
This is Blog Post #299
Complete Blog Library is Here
==========
Burnout is much more often a diagnosis that the WORKPLACE is SICK ... NOT THE DOCTOR! This potential disease designation would drop all burned out physicians into the gaping maw of the mental health industry -- rather than continuing current trends focused on making workplace changes to lower stress.
Here is my fear
READ MORE NOW