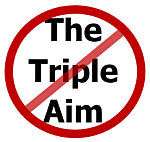 Three Key Components of the Quadruple Aim
Medicine's new Quadruple Aim is the realization that building a quality healthcare delivery system is a lot like building a house.
If you have a good foundation, you can build a solid structure.
If your foundation is unstable, weak or inadequate - your house will be in a constant state of falling apart. You cobble things back together, just in time for the walls to start crumbling again.
If the "house" you want to build is a high quality, cost effective healthcare system with high patient satisfaction ... this is the old Triple Aim ... the only legitimate foundation is the health and wellbeing of the workers in the system.
The Quadruple Aim IS the foundation of quality healthcare.
Every single contact with patients, test ordered, procedure performed and drug prescribed ... is predicated on the assumption that your people are happy and healthy and enjoying their work.
Your ability to fulfill the promises of the Triple Aim is based on the assumption that your employees are at their best. Unfortunately we know that is measureably NOT TRUE.
If your workers are burned out - quality and satisfaction go out the window and your system lurches from one crisis to the next.
With recent studies suggesting that 50% of doctors are burned out on any given office day, the logical question is HOW?
HOW do you install the Quadruple Aim in your organization?
Read More