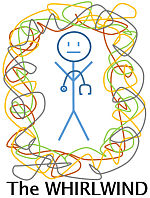 All doctors practice medicine from within the center of a powerful whirlwind
==========
This is Blog Post #278
Complete Blog Library is Here
==========
Your practice is a mini-tornado of:
Repetitive actions with your patients and staff
Thousands of clicks and keystrokes in documentation
Competing demands for your attention from email/text/voicemail
And dozens of decisions, some of which actually involve life and death
And that's a slow day ... right?
It is a legitimate whirlwind - a Dorothy-on-the-Kansas-prairie twister that can tie you up in knots and even make you forget you forgot lunch ... sometimes. That same whirlwind is a core cause of physician burnout too.
============
Related:
Our Complete Burnout Prevention Tools Library
============
How is Your Whirlwind Feeling These Days?
You get to decide how satisfied you are with your practice. You can do that right now quite simply - even though you have been conditioned to NOT ask yourself questions like these:
READ MORE NOW