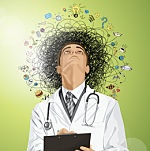 Physician Wellness - What is the Level of Expertise in Your Organization?
In this post let me show you two important new developments in the prevention of physician burnout.
1) The definition of Five Levels of Expertise in Physician Wellbeing as proposed by Tait Shanafelt et al in an important new study.
2) A new way for your organization to leap frog to LEVEL FIVE in a single step.
Take a look at the table below and LEAVE A COMMENT telling us the level of your organization's expertise in preventing physician burnout.
READ MORE NOW