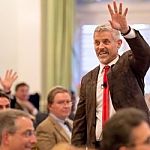 April was a busy burnout prevention training month at TheHappyMD.com
Here are the dates and trainings we delivered to well over 1000 doctors in April of 2019 -- and here is our speaking/training page where you can get us started customizing a training for your people.
Whether you are looking to stop physician burnout or allow us to train your physician wellness champion - we offer the healthcare industry's best training experience. Over 170 organizations and well over 30,000 doctors trained to date. You can be next: Click Here to Learn More.
==========
This is Blog Post #296
Complete Blog Library is Here
==========
1) For SVMIC - State Volunteer Mutual Insurance Company
We delivered Burnout Proof Live Workshop to SVMIC individual and group malpractice insurance clients a total of 12 times in: