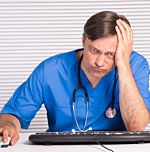 EHR Implementation Struggles and 3 Ways to Do It Well
In this article, I will share three important concepts that will take a lot of the struggle out of your EHR implementation. Each one of these are simple to implement and produce immediate results.
Let's face it ... doctors don't like documentation requirements no matter what form they take. Remember back to the days of paper charts for a moment ... you hated those too ... piles of them on your desk and sometimes on the office floor ... reminding you of the visits you still needed to remember and document.
The Electronic Health Record takes away the piles ... and puts a whole bunch of new stresses on us to keep our charts complete. Are things worse than in the days of paper? A significant number of physicians say yes
Here is what a recent AmericanEHR survey learned in 2012