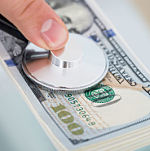 All doctors know EMR is a pain and a leading cause of physician burnout ...
.. but few of us grasp the the depth of the depravity in the Electronic Health Industry until now.
New investigative reporting is shining the light of day on a backwater of fraud, cheating and lies that surrounded the roll out of EMR starting in 2009.



Starting that year, $38 Billion dollars in subsidies for installation of EMR software and attestation to its "meaningful use" have been allocated by the federal government. The response of the EMR industry to that size pile of money was equivalent to giving a school of great white sharks the carcass of a dead blue whale. A similar feeding frenzy ensued.

A significant portion of the EMR industry's response to these stimulus funds appears to have been illegal, harmful or both.


New reporting by Fortune Magazine and Kaiser Health News is collating all the settlements and whistleblower cases into one article so we can all witness the Soprano-style attack on this facet of our healthcare industry.


Turns out some players in the industry constructed a maze of fraud, lies and kickbacks - to the tune of billions of dollars so far. (Tony would have been so proud)


That's right, multi-million dollar systemic and protracted cheating and lying in the EMR industry - already caught, prosecuted and settled for over a billion dollars in fines and claw backs to date