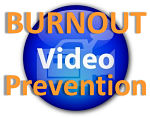 Prevent Physician Burnout with our five-part EMR & Documentation Strategy - Video Training
Any time you survey physicians on the workplace stresses that are causing physician burnout - EMR / EHR and documentation chores will be listed as three of the top five stressors. This happens for obvious reasons.
1) You were taught to diagnose and treat disease and take care of patients - not hunt and peck at a keyboard. You were never meant to be a master of data entry and fancy keystrokes, but somehow this has become a critically important aspect of your job.
2) You think EMR is a Problem. It is not. It is another example of a Dilemma. Watch this video first to understand this fundamental distinction.
What you need is a Strategy to deal with your own personal EMR and Documentation challenges.
Watch the following video for our five-part EMR Strategy.
Implement any one of these this week and you will be getting home sooner before the weekend.
NOTE:
This is one of the Burnout Prevention Power Tools Videos on the Burnout Proof Mobile APP. Learn more and download your copy at this link.
READ MORE NOW
Tags: Physician burnout, physician burnout video, emr, ehr, healthcare documentation
Subscribe to Email Updates