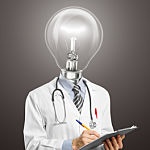 Physician burnout, Einstein's lesson #2 and 30 minutes that can change your life
We all know Einstein's famous definition of insanity:
"Doing the same thing over and over
and expecting a different result."
The Insanity Definition is LESSON ONE in preventing physician burnout.
Not only is that obviously crazy, it is one of the core causes of physician burnout. When the going gets tough, our workaholic programming only gives us one coping mechanism - work harder. So that's what we do until we can't keep going any longer.
Einstein's Lesson #2 is the escape hatch on the insanity trap
Here it is:
"No problem can be solved
at the same level of consciousness
that created it"
Here's how this saying applies to a practicing physician
Read More