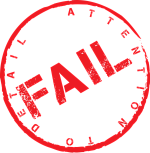 Physician Burnout - 7 Ways Your Physician Wellness Committee will Fail
So very few organizations make an effort to address physician burnout proactively … it is an industry wide blind spot. We are all so busy putting out the daily fires of patient care and ceaseless organizational change that doing something for the people in the system never makes it onto your punch list.
If you do not address workplace stress and physician burnout proactively you are doomed ...
... to receive lower patient satisfaction and quality scores
- higher error rates and malpractice risk
- be forced to deal with disruptive physician behavior
- and higher than normal physician and staff turnover
What if you have a Physician Wellness Committee?
You are not out of the woods by any means. Your organization is one of the 10% who are making an attempt to address physician burnout proactively. You are one of the lucky ones.
And your Physician Wellness Committee will fail if you don't understand these 7 critical errors I see organizations make over and over again.
Do not fall into these traps
Read More