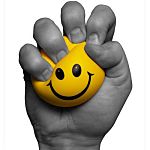 Physician Burnout and "Good Stress"
At every live training, I ask the group, "How would you describe the difference between stress and physician burnout?" Someone always musters a really hopeful look and chimes in with ...
"Well, stress can be good sometimes, right?"
The short answer is, "Yes".
Its what they are hoping I will say - as if those three letters will make everything better. As if that answer will make burnout go away, so we don't have to talk about it today. Talking about it would make it impossible to ignore. That is uncomfortable when you finally realize you are walking the cliff edge (see below).
That "Yes" begs another question:
If there is such a thing as "good stress",
then what goes wrong when stress gets tipped over into physician burnout?
Let's examine the answer to that question in today's blog post.
Let me show you a graph that shows the bell shaped curve mapping the relationship between stress and performance
I will also show you the cliff edge most doctors are walking that explains the high prevalence of physician burnout
And why you always have to be on the lookout for your last straw
Stress and Performance
Read More