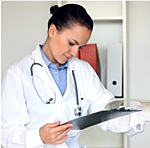 Physician Job Search and the Interview Questions Doctors Forget to Ask
You MUST ask these if you are going to avoid the top three reasons employed physicians quit down the road. Let me give you the BIG LIST and a method you can use in your interview to make a quality decision about your contract.
NOTE: If you are not searching for a job at the moment ...
This is a Very Interesting set of questions to ask about your Current Job. The answers may surprise you and give you some ideas on how to improve the quality of your work day.
==================
NOTE: This is just one of the seven lessons in
The Ideal Physician Job Search Formula Online Training
Learn more and enroll today via This Link.
====================