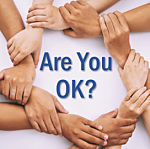 Physician Burnout - how to reach out to a colleague in distress - [VIDEO TRAINING]
If you could save someone's life in a two minute conversation, would you speak up?
The situation I am talking about isn't even really a conversation most of the time. It is just you, caring enough to ask a question. If all it took was a question to save a person's life, would you ask it?
Would you ask even if it feels awkward, takes what feels like courage, might make them uncomfortable and you are not sure what to do if they reach back to you for support?
About twice a year I get asked to train a group of physicians for the worst reason possible. They want to learn about burnout because there as been a suicide on their medical staff recently. The people in the room who feel the worst about that are those who knew the doctor was in trouble and didn't reach out. They will take that pit of second guesses to their grave unfortunately.
We have an obligation to support our brothers and sisters in a time of need. Just find a good time, take your "hat" off and ask the simplest of questions. Here's a video to show you how ...
READ MORE NOW