The consensus is clear, EMR and documentation overload is the single largest source of stress for most physicians.
How did it come to this?
Because forcing physicians to both take care of patients AND perform as a data entry clerk is bad for everyone involved - the patient, the doctor, the doctor's staff and family ... EVERYBODY.
We already have studies showing two hours of documentation chores for every one hour of direct patient care. This documentation disaster already has a slang term for its ability to destroy doctor's family life - "pajama time".
==========
This is Blog Post #287
Complete Blog Library is Here
==========
In this blog post let me show you:
A single graph that perfectly expresses the overwhelm, specifically for US doctors - check it out
Four reasons why this is happening, specifically to US doctors
Four ways to immediately ease your documentation workload - things you can do now, rather than wait for the EMR industry to fix itself



1) A Single Graph that Says it All for US Doctors
From a recent issue of Annals of Internal Medicine:
This is the "average keystrokes/characters per ambulatory chart note" on the X axis and the "number of surveyed institutions" on the Y axis.
- USA in light green
- International in dark green
Hmmmm ... looks a little skewed ... yes??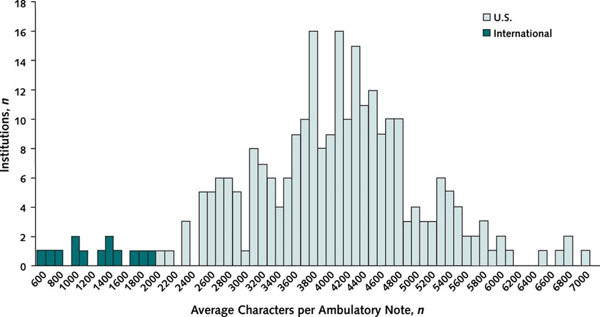 Bottom Line:
In the USA, chart notes average 3X longer than in other nations
So the EMR/Documentation burden is heaviest on US doctors by a long shot.
It's the keystrokes, silly
It is simple overwhelm - too much to do, too few hands on deck
It is a waste of the time and energy of the most skilled and specialized workers in a healthcare organization
And for some reason, it hammers US doctors three times as hard as anywhere else in the world.
2) Four reasons why EMR overwhelm falls heavier on US doctors
Let me take a stab at some answers, each unique to the healthcare system and our society here in the USA
i) Profit
A key feature of EMR in the USA is to provide documentation for the highest charge possible. Your charges must survive an audit by the payor and more is better in a fee-for-service system. The result - you are forced to write the biggest note every time.
ii) Multiple Payors
With dozens and dozens of payors in any given market, each with their own rules about documentation and pre-approval, you must document every single data point that any given payor in your mix might require at every single visit. The result - you are forced to write the biggest note every time.
iii) "Quality" Metrics
Each payor requires different "quality" metrics. They don't coordinate efforts so, once again, you must document every single quality metric that any given payor in your mix might require at every single visit. The result - you are forced to write the biggest note every time.
iv) Lawyers (we are outnumbered)
2016 statistics show the USA has 953,695 licensed physicians and 1,315,561 lawyers. Studies estimate the cost of medical malpractice in the United States is running at about $55.6 billion a year - $45.6 billion of which is spent on defensive medicine. Covering your "legal part" for all the different ways a creative attorney could sue you, demands ... you guessed it ... you are forced to write the biggest note every time.


Now, if you agree with the logic above, we are waiting for single payor, capitation and tort reform, right? YIKES! Good luck with that. We can't wait for the peculiarities of the US healthcare system to be successfully addressed by the US Political system. That would be double insanity.
And if you listen to the academics and industry expert's claim we will be saved by the EMR industry itself and the magic powers of Interoperability and Artificial/Augmented Intelligence and API's and other tech solutions ... well, good luck with that too.
We can't wait for the EMR industry or the politicians to fix the EMR problem. It will take them years to get traction on any of those initiatives in a way that will decrease the time it takes do you your charts.
There are ways to get started now.


3) Four Ways to Immediately Ease Your Documentation Workload
Here are four projects you can launch today to lower the burden of your personal documentation chores and those of your partner physicians and APP's.
1) Build your EMR Strategy. Every doctor needs a personal EMR strategy. EMR is not a problem. It has no solution. It is a classic dilemma and requires a strategy to get the work done in less time. Here is our recommendation for EMR strategy components. Here is another EMR Strategy post that goes even deeper into this stress reduction method.
2) Save a million keystrokes/clicks a day. Here is a simple step to take hundreds of millions of keystrokes and clicks out of each day in the USA -or even each month in just your organization - and you can put it in place this quarter.
3) Here is a method to get yourself a scribe. The Claw Back method to build a scribe pilot your boss will say Yes to.
4) Staff up to match the workload. Here is a proven project to build a bigger team and get the work done much more effectively and maintain profitability.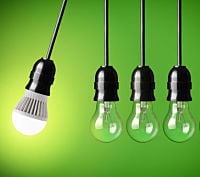 I sincerely hope the pendulum is swinging back to sanity when it comes to physician work loads. Full risk payment systems may actually deliver a future where the doctors "just see patients", but that day is a way off.
If you are overwhelmed by documentation and EMR, try just one of the methods above in your practice ... or feel free to set up a Discovery Session to discuss specifics with one of our certified physician coaches.
==========
PLEASE LEAVE A COMMENT
What do you think is causing the 3X documentation load on US docs when compared to other countries?
What tools have you found to ease your EMR burden?
How does your employer work to make documentation easier for you and your staff?
============
Source articles for this blog post are: