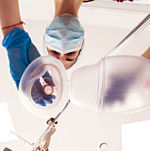 As healthcare workers, we learn, "the patient comes first" as our Prime Directive.
Tragically, this reflex impulse to dive in and help without thinking, can get us killed - especially here in the Covid19 Pandemic.
We tend to dive in where the need is the greatest, never questioning our "the patient comes first" programming.
So for instance,
as a health care worker
if you see somebody down
who's not breathing and they don't have a heartbeat
you're gonna probably jump on them and resuscitate them.
It is a reflex action

We don't even think about it under normal circumstances.



These are not normal circumstances. Stop for just a second.