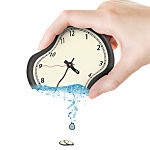 Time management is a myth.
There is no such thing as time management. You and I get 24 hours in each day – 168 of them in a week. No more and no less. The seconds in an hour are a fixed resource that no one can manipulate or manage or finagle or cajole or multiply. So let's all stop focusing on " time management " and do something MUCH more productive instead.
Manage Your Priorities and Intentions Instead - and create more work-life balance this week.
Does this feel familiar. .. You have had a very busy week filled with LOTS of activity – at work and at home. And as you sit here on the weekend you reflect on "Gee, I sure wish I could have had a date night with my spouse/significant other this week" and you begin to judge yourself or your career because that didn't happen?