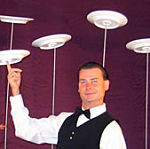 If you are over stressed and out of balance, changing your actions is the only way to get your mojo back.
Without new actions you will stay trapped in the quicksand of Einstein's Insanity Trap.
Watch out though ... if you make too many changes at once ... your good intentions can actually drive you over the cliff edge and into full blown burnout. Too much change, too fast can be dangerous.
This is where a plate spinner teaches a very valuable lesson
When you are ready to spin up a plate ... how do you choose?
Here are the top tools we recommend to get you started
PLEASE LEAVE A COMMENT:
What plate are you spinning up right now and how is it going?