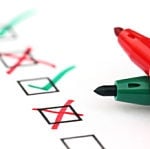 Stop Physician Burnout - Delegate Your Punch List for the shortest path to a better quality of life
You know your Punch List ... right? It is that to-do list of tasks to complete at home. Things like clean the house, mow the lawn, balance the checkbook, fix the door hinge on the closet, find an outfit for the office party next weekend ... etc. etc.
It's that list you scrawl on a spare piece of paper containing all the routine activities of monthly living we each must take responsibility for. It is that list you worry about, fret over and never seem to get through for a simple reason ... you are busy taking care of patients, documentation and all the other activities of being a doctor.
They pile up on the list and proceed to suck you dry on your off days -- when you try to complete as many as possible in your "free time". They take up WAY TOO MUCH of your down time -- your recharge time - your LIFE.
Work is busy enough. Ideally home is relaxing ... NOT just a different flavor of overwhelm.

In this blog post let me show you a way to rapidly restore a sense of balance and control by delegating your punch list to people who are more qualified, are eager to help you and can free you up to grow and maintain a real life outside of work.
I will show you our Master List of delegatable tasks and a Six Step Plan to Get Started Now.