Stop Physician Burnout - Delegate Your Punch List for the shortest path to a better quality of life
You know your Punch List ... right? It is that to-do list of tasks to complete at home. Things like clean the house, mow the lawn, balance the checkbook, fix the door hinge on the closet, find an outfit for the office party next weekend ... etc. etc.
It's that list you scrawl on a spare piece of paper containing all the routine activities of monthly living we each must take responsibility for. It is that list you worry about, fret over and never seem to get through for a simple reason ... you are busy taking care of patients, documentation and all the other activities of being a doctor.
They pile up on the list and proceed to suck you dry on your off days -- when you try to complete as many as possible in your "free time". They take up WAY TOO MUCH of your down time -- your recharge time - your LIFE.
Work is busy enough. Ideally home is relaxing ... NOT just a different flavor of overwhelm.

In this blog post let me show you a way to rapidly restore a sense of balance and control by delegating your punch list to people who are more qualified, are eager to help you and can free you up to grow and maintain a real life outside of work.
I will show you our Master List of delegatable tasks and a Six Step Plan to Get Started Now.
Understand one thing -- this is the shortest path to a better quality of life.
Sure your EMR and office schedule and other work related items are a pain too. However, changing them is a process. You will need the cooperation of other people in other departments. A more efficient practice is also possible and it will take patience, cooperation and time.
Delegating your Punch List can create almost instant changes in how you experience your time away from work.
This week could be the last time you clean your house.
Nobody can stop you from hiring a housekeeper. All you have to do is make the decision to delegate and you will find whole communities of entrepreneurs hungry for the opportunity to help you grow a life. Your business could also be a game changer for their livelihood.
(BTW, we already know that this skill is key to building a better day off and is research proven to increase your happiness.)
D0n't succumb to your Lone Ranger Programming here.
DO NOT try to do all these things yourself ... PLEASE
On behalf of your family, your patients and staff -- and your own personal happiness, I strongly suggest you learn to Delegate Your Punch List. Here are three reasons why.


1) You are simply not the most qualified
You are a doctor, NOT a professional housekeeper, lawn mower or accountant. You are almost certainly not the most qualified person for any of these jobs in the first place. In your home town there are professionals just waiting for a call to come and give you a free estimate on what it would take to hire them for each and every job on your list.


2) Paying people to complete your punch list has a huge ROI for everyone in your life.
The rate limiting factor in your quality of life is more likely to be TIME than MONEY. Check it out for yourself - what do you have more of ... time or money?
- Now notice what it would cost for something like 2 hours of a housekeeper's time to clean your digs twice a month. I bet you can find a great service for way less than $200/month.
- What else could you be doing if you were NOT cleaning your house for four hours a month (and it probably takes you longer that a professional service)
You decide if it's worth it


3) Having a life is possible no matter how busy you are.
Rather than keep adding busy work to the list and being constantly frustrated by what you are not able to get done each month - delegate and release them one at a time.
Use the time you reclaim by delegating to grow an authentic, rich, juicy, enticing, full life in your limited number of hours outside the office or hospital.


You can make the choice to carve out a life - rather than manage a Punch List. It is possible.
============
Here is your Mantra:
If you don't have enough TIME
You need a bigger TEAM
============
Delegate Your Punch List OPTIONS LIBRARY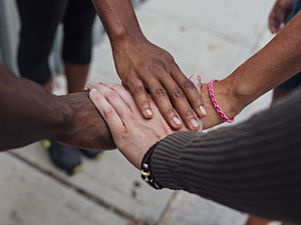 Here are some suggestions for services you can outsource. Please use the COMMENTS section at the conclusion of this post to fill in any areas you feel I have missed.

Housecleaning 2 - 4 times a month. Just imagine that for a moment. Now go make it happen.

Car maintenance and cleaning service, one that comes to you -- so your cars are always clean and in tip top shape.
Personal shopper -- for an upgrade to your image and wardrobe. Here are reviews of ten top rated options.

Lawn service or gardening service -- regular as clock work so that if you go out in the yard or garden it's for the fun things like planting, harvesting or just relaxing.
Handyman service -- for the odd fix, replace, upgrade or paint job around the house. Just make the list and hand it to the handyman/woman and presto ... all better.
Nanny, Au Pair, friend of the family -- for childcare and to taxi the kids around. Plan to get coverage for a minimum of a couple days a week. This way when you want to parent or cook or just hang with the kids all the grunt work is done. BTW, a coupleof part time nannies is better than one full time. This way if one is in unavailable for whatever reason, you have fall back coverage.
Help with meal prep. Personal chef/cook, meal delivery service, grocery delivery service, farm to table produce delivery food club, meal in a box delivery service where you do the cooking.
Bookkeeper, tax prep accountant, financial planner -- so your books are up to date, you know your Net Worth and your exact position in your retirement plan at all times.
Drop off laundry service - wash and fold - and a favorite dry cleaner. Ideally these services do home pickup ... right?
In-home massage. Imagine twice a month (or even weekly) massage where they come to you!! (this can happen if you plan for it)
Personal trainer with good nutrition knowledge. They can set you up with a personal workout regimen ... ideally one you can do at home with out a bunch of expensive equipment.
Even an IT person on call who can fix or upgrade your computer(s) when needed and maybe even schedule preventive maintenance.
Window cleaner to come twice a year and clear your views like a pro.
Clearing House for ALL of these services. TaskRabbit is an example.
============
6 Steps to Get Started NOW
Make a list of the items on your punch list. The first step is always to make the Master List.
Pick just one. Just one. Only one.
Find someone or a service to delegate to. Ask for referrals from colleagues. Look for websites with testimonials.
Teach the person or service exactly what you want done and exactly how you want that to happen. Do a high quality hand off so they can meet your expectations.
Communicate with your team member regularly to tweak their performance and get exactly what you want and need from their service.
Use the Schedule HACK weekly to plan your life in the extra hours your delegation has created for you.
============
PLEASE LEAVE A COMMENT:
How do you delegate your punch list and what difference has it made?
What additional punch list items would you suggest we add to the list?