Work Life Balance – 3 Steps to Your Big Rocks Life
Steven Covey, author of "The Seven Habits of Highly Effective People" is famous for his "Big Rocks" Demonstration. This simple technique reveals a hidden formula for creating the work life balance we all seek by scheduling your Big Rocks First.
Here is a link to his YouTube video of this work life balance big rocks formula. If you want more work life balance for yourself and have not heard of the Big Rocks Technique, I highly advise you watch the video … then come back to this page where I will show you the quickest way to work the Big Rocks Formula in your life.
The 3 Step Big Rocks Formula for Work Life Balance
Step 1: What are Your Big Rocks ?
Joe Jackson is famous for a song with the title: "You can't get what you want 'til you know what you want." Same applies here. In order to create the work life balance you seek you must first decide what it is you want … outside of your career. This can be as simple as answering the following questions.
=> Who are the most important people in your life?
=> What are the most important things you would like to do with them?
=> What are the juiciest items on your Bucket List?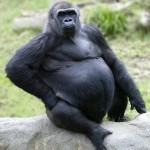 Simply write down your answers to these questions and you have an abbreviated Big Rocks List. These are the work life balance items that most likely are being crowded out by the demands of your medical career at the moment … (remember that #800 Gorilla?).
Creating your own personal flavor of work life balance might mean a regular "date night" with your significant other, some alone time with each of your children, a vacation to Machu Picchu … what ever is on your list … these are your Big Rocks … which leads to the step most people miss …

Step 2: Schedule Them … Do it NOW !
(or it they simply won't happen)
Your work life is highly structured and scheduled. Most of the doctors I work with do not have the same degree of structure when it comes to their life outside of medicine. So when it comes to creating work life balance, you are battling with an #800 Gorilla with an iron clad schedule. His needs always come first. That is a big part of why things can get out of balance.
Rather than do your job and simply HOPE that your life can squeeze in around the edges … one of your most important tasks is to build your own work life balance structure that runs parallel to your work schedule.
The simple act of Scheduling your Big Rocks is a HUGE Step in creating more work life balance.
If you DON'T schedule your Big Rocks, here's what usually happens
==>> NOTHING <<==
You DON'T take a vacation. You DON'T spend as much time as you would like with your spouse, significant other and children. You can feel cheated, out of balance, like all you do is work. If any of this sounds familiar, here are the two remaining steps to live a Big Rocks Life.
=> Get a Calendar
=> Put your Big Rocks on this Schedule
=> Hold this Schedule as Equally Important to your Work Schedule
You will notice that the bigger the rock is, the farther out you will have to schedule it.
Here are a couple of examples:
If one of your Big Rocks is a Date Night twice a week with your spouse
- You may need to set that up to begin next month.
- Power Tip: Schedule your date nights for the rest of the year right now. You can always move them as needed. The act of scheduling them makes them much more likely to happen – so go ahead and write them in now
If one of your Big Rocks is that trip to Machu Picchu
- You may need to schedule that 12 – 18 months in advance
- Block it out NOW though. If you don't … it simply cannot happen.
Without this StepTwo … the POWER Of Step Three becomes impossible
Step 3: Defend Your Big Rocks
Your work life balance depends on more than just writing your Big Rocks down on your new calendar. Now you must DEFEND your Big Rocks. Your #800 Gorilla friend is not prepared for this. He is used to being the only game in town and the only one with a structure and a schedule.
Now that your Big Rocks are on the Calendar … consider the time blocked out. You are simply NOT AVAILABLE – YOU ARE BOOKED – YOU HAVE A PRIOR COMMITMENT.
Practice Your Defense
One of the things most doctors are not good at is saying "NO". Let's practice. Sooner or later someone or something will try to displace one of your Big Rocks. This typically comes in the form of a request for you to be available at the time you have a Big Rock on your schedule. Here is the beautiful thing …
Your Big Rocks are sitting right there on your schedule. You can simply look the person making the request in the eye and Tell the Truth
It might sound something like this …
"I am sorry – Thank you for asking
AND
I am NOT AVAILABLE"
or – "I am BOOKED"
or – "I have a PRIOR COMMITMENT"
Mission Accomplished – Big Rocks Defended
The Gorilla simply won't know what to do at this point. AND you are going on that date night. Yesss!
Power Tip:
I strongly suggest you PRACTICE your Big Rocks Defense in the mirror. Pick a phrase that works naturally for you and practice until you are completely comfortable.
What is possible?
Clients who put these three steps in action have experienced their first date night in years — that very same week. Others have scheduled amazing family vacations – AND TAKEN THEM … in a matter of a couple short months. What is possible for YOU is the question. What are the Big Rocks that will give you the work life balance you seek?
Remember … when it comes to Work Life Balance and Living the Big Rocks Life
All it takes is three steps
=> Pick Your Big Rocks
=> Schedule Them
=> Defend Them
The final step is to Do Them …
relax into whatever experience you have created for yourself and your family. Ahhhh. THAT is what work life balance can feel like.
PLEASE LEAVE A COMMENT with your ideas on the big rocks you will use to create your own work life balance.
============
Would you like my personal assistance
helping you use this Big Rocks Formula to create more work life balance ?
FREE, No Obligation, Completely Confidential
--One hour phone consult to discuss what's possible
and Get You Going Right Away
============