What do you think the US healthcare industry will look and feel like in 2023?
If you want to call US Healthcare a "system" today, what will that "system" look like in the year 2030 and how will it handle the healthcare needs of an older, sicker population?
With nearly everyone calling for system change and reform, "burn it to the ground" and more ... let's look at the demographics of the US Physician Workforce and imagine healthcare in 2030.


Here's my crystal ball. What is does yours look like?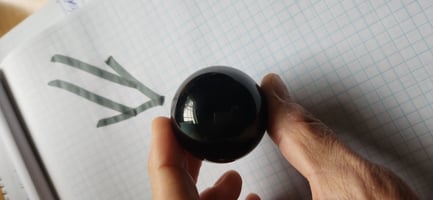 I am not exactly sure WHAT will happen, and I believe I have some clarity on HOW it will go down.
[ CME link is at the bottom of this blog post ]


~~~~~~~~~~
? Does Your Organization Have an Effective
Physician Wellness Strategy ?
Let's Connect so we can share our 40,000 doctor
and 175 organization experience
~~~~~~~~~~

WHAT WE KNOW TODAY
WORKFORCE DEMOGRAPHICS
WORKFORCE READINESS
The current physician workforce sports a 62.8% Burnout Prevalence.


Every study of physician performance and burnout has found "suffering from at least one symptom of burnout" leads to a pervasive negative effect on multiple metrics of physician performance and wellbeing:

Burnout is linked to LOWER

care quality, safety, patient outcomes, patient satisfaction and staff satisfaction and engagement

and HIGHER

medical error rates and malpractice risk.
Burnout is linked to HIGHER rates of depression, alcohol and drug addiction and suicide for the burned out physician (or any other burned out member of the care team.

Conversations with multiple CMO's have identified an additional burden of newly graduated doctors: resident work hour restrictions create a situation where new graduates have 1/3 less hours of patient care experience than their boomer colleagues. This creates an acute need for an extended monitoring and onboarding program to bring them up to speed with the existing doctors on the rotation. The first employer has been tasked with completing the medical education of the new hires.
WORKFORCE SUMMARY
The US physician workforce is rapidly shrinking with a retirement cliff of boomer doctors and nurses between now an 2030.

The doctors replacing them practice in a non-equivalent fashion and cannot be switched out 1:1.

Medical school classes are majority female, yet currently 40% of women physicians go part time or quit within 7 years of graduation?

All this is happening in the background of a US population that is getting older and sicker with rising demand for healthcare services.
LET'S KEEP GOING
INDUSTRY MERGERS AND ACQUISITIONS
Healthcare services are now being offered directly by entities such as WalMart, CVS, Amazon and more - who know nothing about caring for patients or employing physicians.


The care delivery focus is more on quick profits, convenience and the absence of the need for human contact.


Private Equity is very active in the healthcare industry due to the size of the marketplace -

in 2021, Healthcare spending reached $4.3 trillion, $12,914 per US citizen and 18.3% of GDP.

P.E. business models always focus on maximizing profits in all aspects of care delivery and payment rather than patient care quality or provider and staff wellbeing.
QUALITY, SAFETY and PATIENT EXPECTATIONS
Both younger and older patients seem to use and prefer telehealth and video visits - matching the business models of on-demand virtual medicine providers.


There is early evidence that virtual healthcare may have radical effects on the health of the general population including a potential radical acceleration of multi-drug resistant infectious diseases. A recent retrospective cohort study found significantly more antibiotic prescribing associated with telehealth visits when compared to urgent care and primary care settings (52% telehealth vs 42% urgent care and 31% primary care; P < .001)


WILDCARD = A.I.
A.I. surrounds us with pervasive claims of benefits for doctors and patients. It is not possible to have a clear idea of exactly how it will transform the provider or patient experience - just that it will be BIG. It is already BIG and who knows what will happen when A.I. starts to train future generations of A.I., eliminating human input along the way.
WHERE DO WE GO FROM HERE?
Sure feels like a Thelma and Louise moment to me - unless things change - and soon.
I am certain the vast majority of physician employers will drive right off that cliff, forcing you to see as many people as possible for as much money as possible for as long as possible before it all comes crashing to the ground. And one day, you will show up for work and the doors will be locked.
I believe the "system change" comes through collapse of the existing entities and business models that are focused only on volume.


The collapse comes in loss of one service at a time - rapidly and randomly across the nation.
Rural and other underserved populations are hit first and hardest.

When the last boomer OB/GYN at a smaller, rural hospital retires - the the OB/GYN service at that rural hospital closes doors and lets go of all the workers. It will seem sudden - an overnight shock and surprise. In reality, it has been obvious for years to the leadership team of that hospital. The service is absorbed by the academic practice 90 miles down the road. The local patients and local economy suffer a permanent loss.


Services collapse in ones and twos until the mother ship entity collapses or is absorbed by a larger or more stable entity.

The collapse is different in different states - we are a federation of states after all.

For example, OB/GYN disappears first in states with dangerous abortion bans.
And states that have not expanded Medicaid will have a different collapse pattern.
I don't know what rises in the place of the services of today for two reasons:

We don't know how A.I. and the robot doctor and remote monitoring and the rest of the Tech Healthcare Fever Dream will replace physicians and nurses. Maybe it is your virtual doctor with a virtual degree from Harvard - this is the McSteamy version, complete with a Yorkshire accent!



And we don't know how low the average citizen's healthcare service expectations will drop.

Will 2030 patients feel if they send a text message to their virtual provider within 5 minutes of onset of their runny nose, that an ideal scenario is Augmentin dropped on their front porch that day by a drone from the nearest WalMart. Is that what will be judged to be 5 star service in 2030 - a contribution to their "percent of top" satisfaction score?



The organizations that survive the collapse will all have one thing in common.

They will have

an effective wellness strategy

for their physicians and staff that give them a triple competitive advantage:

Provider of choice to the patients and payors
Employer of choice to the docs, nurses and all support staff
More nimble and stable and profitable than the competition



These survivor organizations either have a meaningful Physician Wellness Strategy in place now or will install one in 2024.


This strategy will enable rapid innovation when their services threaten to collapse and the ability to attract, hire and retain quality doctors to replace retiring senior partners as the cliff begins its inevitable impact on the US physician workforce.


What your group does in 2024 will determine its 2030 survival.
The current "system" is unsustainable and I believe just throwing A.I. and robot doctors into the mix cannot fill giant holes created by retiring doctors and nurses.

We need a massive increase in the ability to offer coordinated team-based care across multiple settings, both in-person and virtual.
Your team will need to stay on top of all the latest tech and A.I./Machine Learning developing best practices and implement them quickly.
And your leadership must understand that all of this is built upon a foundation of physician and staff wellbeing ensured by an effective wellbeing strategy.
QUESTIONS:
Is your leadership team talking to you about 2030?


What is their vision and their action plan?


When you look around the room at your next Medical Staff meeting, how many of those physicians will not be here in 2030 and what impact will that have on your practice?



~~~~~~~~~~~~~~~~~~~~~~~~~~~~~~~~~~
? Does Your Organization Have an Effective
Physician Wellness Strategy ?
Let's Connect so we can share our 40,000 doctor
and 175 organization experience
~~~~~~~~~~~~~~~~~~~~~~~~~~~~~~~~~~


This Blog Post is Eligible for CME Credit
CMEfy LINK [learn more about CMEfy ]

Blog Post: US Healthcare Industry in 2030? - Get Out Your Crystal Ball
US Healthcare Industry Trends and your predictions for 2030
The CME experience for this Video Lesson is powered by CMEfy
- click here to reflect and unlock credits & more:
https://earnc.me/6MZKuG
PLEASE LEAVE A COMMENT:
How clear is your crystal ball on the 2030 healthcare system?
What do you expect happens next?
How are you and your partners doing here in 2023?