Even in a Year Like This ... Physician Wellness Leaders are More Important than Ever ... here's why ...
We are nowhere near the end of the human suffering and massive economic impact of the pandemic of 2020.
The Old Normal is gone. It is all hands on deck - as you treat COVID-19 patients directly or are working to ramp your practice back up again.
The New Normal has yet to emerge from the whirlwind.
And I keep getting the same answer to this question from everyone I meet.
"Do you think when this is all over and a Post-Covid healthcare delivery system reassembles itself ...
that the health and wellbeing of the physicians and staff
will be MORE or LESS Important going forward?"
Now is the time to get the skills and support to be an effective Wellness Champion.
I am convinced the organizations who take the best care of their people will be the winners in a Post-Covid world. And I know you want to play a role in the physician wellness movement.

Let us teach you a proven set of skills for wellness at three levels: for yourself, your teams and your entire organization. When the dust settles, you can lay down a coordinated Wellness Strategy for your people.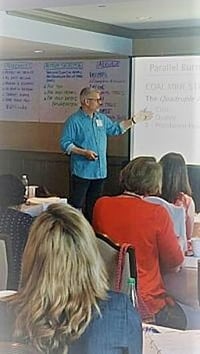 The Quadruple Aim Physician Leadership Retreat is Live and In Person in Seattle, September 24 - 27.
BUT YOU ARE NOT REGISTERED YET !
============
USE THIS LINK to register for September 24th - 27th
============

=>> Click Here to Download the Complete Retreat Overview <==

=============
13 hours of CME


12 weeks of comprehensive support so you hit the ground running

Three levels of wellness tools - for you, your teams, your entire organization

only 36 spots total



500 tuition discount for FQHC/Critical Access Hospitals, MEDED and groups starting at just two registrations
[Hit REPLY and tell us about your group to lock in the discount]

NOTE:
If conditions in September do not permit a LIVE, IN-PERSON Retreat, we will switch to LIVE on ZOOM just like we did in the spring retreat this year.
Here's what two spring participants had to say:
"I really enjoyed the camaraderie / input / discussions amongst all the participants. We could help one another, share insights/experiences much better than in a large conference room setting. Can't wait for the 12 Mastermind calls"
~ K K MD

"There was a "drinking from a garden hose" sensation that just made me want more time. I'm therefore grateful for the upcoming 12 weeks of follow up sessions as questions and thoughts will surely arise as I digest more of this great content.
I suspect (and hope) this content becomes core for doctors, starting in medical school - a culture paradigm shift."
~ K H MD
The 2020 Fall Quadruple Aim Physician
Leadership Retreat
---
You will learn how to
Recognize, prevent and treat burnout in yourself and your teams

Build a culture of trust and engagement in your group

Become a more effective leader and stop having to do all the heavy lifting on your teams

Build your own personal burnout prevention strategy and be a role model and mentor for your people

Build a proactive burnout prevention strategy into even the largest organization

Lead better meetings

Manage your boss


Deal with disruptive colleagues

13 hours of CME

12 weeks of comprehensive follow up so you hit the ground running

... and so much more
At Seattle's only waterfront hotel ... makes a great springboard for a world class vacation (... just sayin')
That's all for now. I really hope to see you in Seattle this fall ... where we will begin leading healthcare to a new Quadruple Aim reality.
If you have any questions, suggestions or would like personal support ...
- click here to contact me directly
- or hit "REPLY" to send me a personal email
Keep breathing and have a great rest of your day,
Dike
Dike Drummond MD
www.TheHappyMD.com