When managers/leaders drive for production in the face of physician burnout ... this quote becomes the leadership lesson of the day.
============
Physician Leadership's
Dirty Little Secrets Video Series is Here
============
---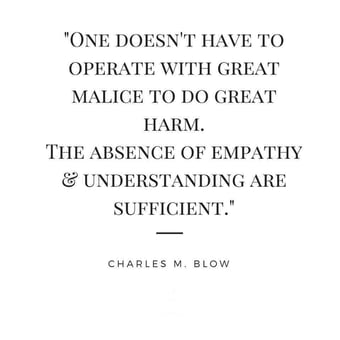 ---
Unfortunately the absence of empathy and understanding is often a blind spot in physician leaders.
This is the origin of leadership statements like this:
"What's your problem that you can't see more patients?

... get your charts done?

... show up at all the department meetings?




What's with these doctors, don't we pay them enough?"
Physician Leadership Empathy is the number one skill of a quality leader. Empathy when your people are in pain ... drives curiosity, which drives creativity and innovation.
It feels good to lead a team that feels good about their work.

I so wish it felt really bad to lead a team that feels bad about their work

AND that the physician leaders first instinct would be to LOOK IN THE MIRROR

And ask, "What can I/We change to make it easier to take good care of our patients?"

Then dedicate yourself to learning more by rounding on and shadowing your people.
============
PLEASE LEAVE A COMMENT:
Have you experienced this from your physician leaders?
What have you found to work in raising their awareness?