Here in what we hope are the waning days of the Delta Surge in COVID, there is so much physician stress, burnout and pessimism in the USA.
We talk with hundreds of physicians and physician leaders each week. Starting about a month ago ... despair, true fear about the future of your practice and a clear deer in the headlights quality started to color these conversations - for obvious reasons.
If You Need Urgent Support
Our Physician Coaches are Here
COVID just will not stop ... it is relentless.


COVID craziness is perhaps even more stressful. The virus appears to be a Rorschach test with dark and unpredictable twists and turns.


Massive, nationwide support staff shortages are leaving the doctors and nurses who do show up to work more overloaded than ever before.


Vaccine mandates are being met with mass threats of firing or walking off the job, often from very experienced nurses and other key support staff.


Burnout rates are surging in each successive new study.


Some pundits are calling this the early stages of the collapse of the US healthcare industry.


In the face of ALL OF THIS ... my message is Do Not Abandon Hope.
It is too early to call this the end of healthcare as we know it ... and there are some positive developments to focus on here. We are in a dark time, yet I think the trend is positive going forward - basically because things can't get much worse.
1) On Average Delta is Waning

You can see the peak and drop clearly now. It's early and it is there. Here are the positive test rate averages and hospitalization rates for this week. The curve is bending.
COVID Cases as of 9/22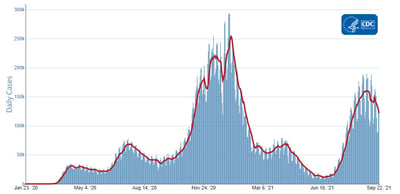 COVID Hospitalizations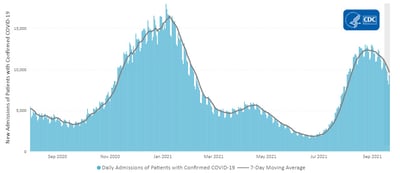 There are severe regional hot spots, often related to vaccine hesitancy. If you are in one, breathe and hang on and your peak should come soon as well. If you are reading this and are not in a hot spot ... please take a moment and a big breath to send those who are your wishes/prayers/good vibes that they have a mellow day today.



2) As vaccine mandates take hold, many will get the shot and not quit their jobs

I personally don't believe everyone who is threatening to quit will do so. There are plenty who will walk and it won't end up being as bad as it feels right now when the decision to vaccinate or quit your job has to be made in real life.



3) The support staff employment markets will get better over time.

The current MA shortages nationwide will ease over time as the labor market comes into a new, post-COVID balance. We are seeing this in several areas of the country at the moment. Help is on the way.

In the meantime take really good care of your closest circle of support on your care team. Cookies, hugs and thank you's early and often for your personal MA/Nurse/Receptionist and colleagues in your call rotation.



3) There has never been a better time to find a new job for physicians and that trend only gets better going forward.

We are in the early stages of a massive physician shortage between now an 2030 - some estimates predict we will be 120,000 doctors short of what is needed here in the US. Recent accelerated retirement of boomer docs is causing additional pain nation wide.

If you can be flexible on location and learn how to do a quality job search ... you can quickly find a much better job. This is a massive "seller's market" for physicians.
---
Much is in motion at present.
The nationwide physician mood is negative - worse than ever in my experience - and I believe this is the nadir.
By Thanksgiving of this year ... the medium term trends in COVID, Staffing, Vaccination will be crystal clear ... and the job market will be even more positive for physicians.
Hang In There
---
PLEASE LEAVE A COMMENT
What are you seeing in COVID and Support Staffing shortages in your area?
Are you planning on retiring or switching jobs any time soon?