National Recognition for Our Client Avera Health in Sioux Falls !!
Our clients Avera Health in Sioux Falls, South Dakota just won the 2016 Medicus Integra Award from the Coalition for Physician Wellbeing.
In 2014 we collaborated with Avera to provide 8 full onsite training days for their regional hub hospitals and launched their Burnout Prevention Working Group which they call the LIGHT Committee. The letters stand for
Live
Improve
Grow
Heal
Treat/Trust
Avera was the first team we have worked with that dedicated a significant budget to their burnout prevention activities - $150K in the first year alone - and recruited and paid for a dedicated leadership dyad to head up the LIGHT program. Here is a picture of Jill Kruse and Mary Wolf who are the leaders of the group. Jill is a family doc in Brookings, SD and Mary is a counselor, coach and founder of the Avera EAP Program.
The organization realizes the fundamental truth that Physician Burnout is not a problem. It is a dilemma that requires an ongoing organizational strategy for optimal results. In addition to our Physician Engagement Formula components, they have installed additional trainings on Financial Planning, Formation and Preparation for Retirement for their physicians and APC's.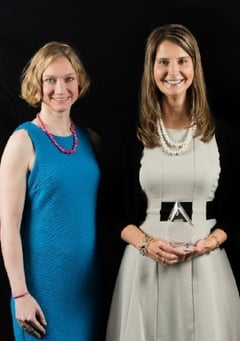 Winning the Medicus Integra award involved a detailed site visit and program audit much like the Baldwin Award.
And we are so proud of Avera, Jill, Mary and the dyad of Tad Jacobs, DO their CMO and Dave Flicek his CAO partner in this endeavor. They are true leaders in the field of Physician Wellness and corporate efforts to build a true Quadruple Aim organization.