An anchor, a tether, a life line and a way back to yourself
All doctors - everyone who sees patients for a living - need a solid anchor.

If / when you fall in, you can pull yourself back to shore hand over hand, make it to dry land and catch your breath.

The conversation about physician burnout is often dominated by the term RESILIENCE. We doctors need to be tougher, more elastic, stop complaining.

I ran into an alternate way of looking at this issue via a blog post by Brenda Osieyo
Here is the quote that inspired her and me; about maintaining an anchor and a way back to yourself now that you have chosen the Lightworker's Path - working with sick, hurting, scared, dying patients and their families.

~~~~~~~~~~
Make 2023 Your Best Year Yet
With our 10-Question Breakthrough Worksheet
~~~~~~~~~~
This was a conversation between the author and a seasoned psychologist, as she was making her decision to go to medical school.

"The patients we work with have fallen through the ice in the middle of a frozen lake ...

My job - your job should you take this path - is to go out to them, to be with them on the thin ice, and to work with them to get them out of the frigid water.

But you must know that if you go out to them on the thin ice, there is a real danger you will fall in too.

So if you go into this work, you've got to be anchored to the shore. You can reach out one hand to the person in the water, but your other hand needs to have a firm grip on the people and things that connect you to the shore.

If you don't, you lose your patients and you lose yourself."

Excerpt from "Falling into the fire: A psychiatrist's encounters with the mind in crisis." Christin Montross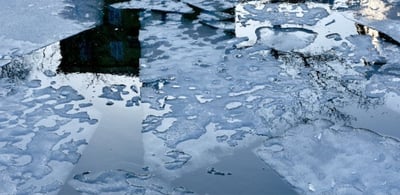 What are your anchors?
People - family, friends, colleagues, mentors - pets, nature, exercise, hobbies, silence.
What are your anchors to the shore of you ... in the midst of your choice to put the patient first?
~~~~~~~~~~~~~~~~~~~~~~~~~~
PLEASE LEAVE A COMMENT
What are your primary anchors and how do you find time to maintain them.
This blog post inspired by this Brenda Aoseiyo blog
https://www.brendaosieyo.com/post/anchoring-physician-wellbeing
And this book: "Also human: The inner lives of doctors"