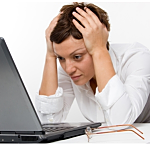 ATTENTION PHYSICIAN LEADERS:
Physician Burnout affects 20 - 40% of the Doctors in Your Organization even as you are reading this headline
Question: What are You and Your Organization doing to

Prevent Physician Burnout

?
Not just survey for it and acknowledge it's a problem ... What are You Doing to Prevent Burnout and support your Physician and Staff Wellness, Engagement and Satisfaction?
Here at The Happy MD we have hundreds of hours of experience working one on one with over stressed physicians to make significant improvements in their life and practice quickly and simply. We lecture on burnout prevention across the country and publish burnout prevention tools at websites like KevinMD.com, Medscape.com, PhysiciansPractice.com, ConsultantLive.com and others.
Let us show you simple, proven tools to Lower Stress and Prevent Burnout in Your Physicians and Staff

FREE, No Obligation, Completely Confidential
=========================================
Right Now Burnout is hard at work doing invisible damage to your Bottom Line
- Decreasing Quality of Care and Patient Satisfaction
- Increasing Medical Errors, Malpractice Risk and Physician and Staff Turnover
- Hurting Your Physicians, Their Patients, Staff and Families
In these rapidly changing times, if you are not proactively addressing stress and burnout in your organization, you are losing money, wasting time and dealing with unneccesary turnover.
ALL of this is Avoidable
There is a New Organizational Imperative to root out, treat and prevent Physician and Staff Burnout. The health of the providers demands it and the benefits to the organization are massive.
Let's connect for a FREE Burnout Prevention Consult
to discuss Quick, Effective Methods to Lower Stress
and Build Engagement for Your Doctors and Staff

FREE, No Obligation, Completely Confidential
[ OR - CLICK HERE to send a Direct Message Now ]
===============================


This is a full one hour phone conversation with me where I can get to know a lot more about your situation. We can discuss the stresses within the provider pool in your organization and what can be done to identify, treat and prevent burnout. This Discovery Session has
- No Cost – No Obligation – Our call is Completely Confidential
Click the link above and my online booking system will set us up to connect at a time that works for you.
Please contact me directly if you have any questions.
I look forward to talking with you soon.
Until then, keep breathing and have a great rest of your day.

Dike
Dike Drummond MD
TheHappyMD.com