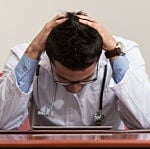 Physician Burnout Epidemic Demands Changes in Current CME Policy
Have you ever tried to get CME authorization for a non-clinical physician training? It is the most frustrating example of a Catch 22 you will find in modern healthcare.
Succinctly put - if a training directly benefits the attendee and their quality of life, it is ineligible for CME credits
If you want to snore your way through, "Common rashes in primary care" or any one of the incomprehensible updates coming from the bleeding edges of medical research ... the CME credits are no more difficult to obtain than a Grande Americano in Starbucks.
[I will obviously acknowledge that clinical, patient-centered CME is the core of maintaining your clincal skills long term ... and let's all admit clinical education is NOT ENOUGH to produce a happy, healthy, balanced and productive modern doctor.]
We recently applied for 9 hours of CME credit for our Heart of the Healer Retreat coming up in September. We were given 6 hours of credit and denied the remaining three specifically because,"the training will benefit the physician attendees".
The burnout epidemic is a powerful sign that current medical education is failing physicians in the front lines - in medical school, residency AND in CME training for practicing doctors.
Physicians everywhere need burnout prevention training now.