The primary risk to all Lightworkers is built into our first Prime Directive.
Healthcare's Prime Directive #1:
The patient comes first
In this blog post:
Let me show you the nature of this fundamental risk
The toll it takes on all healthcare workers
An image that captures this dynamic in a way you won't forget
And a tool to recharge we have proven effective in our physician coaching practice.
You chose to be a helper, a healer, a Lightworker. This creates a pecking order when it comes to your personal energy, your life force. If the patient comes first, where do you fit in? This programming is so powerful you may feel guilty for even thinking about your own self care; your own need for sleep, time off, food, even a bathroom break.
In the act of helping we can (and often do) overextend ourselves. Then that role of helper and healer can push you into burnout. With physician burnout rates between 40 - 50% prior to the pandemic, we know this built-in risk is huge.
The image below expresses this energy reality better than any I have ever seen.
I have tried to find the artist so I can reference them. If you know who it is, please tell me in the comments below. All I have is this screen grab. It is the perfect illustration of this tilted playing field.
If the patient wins and the physician/nurse/healthcare worker loses ... we all lose. There has to be a way to restore balance to the force - your life force.
And in the overwhelm of the pandemic, conditions can arise that make this rebalancing impossible.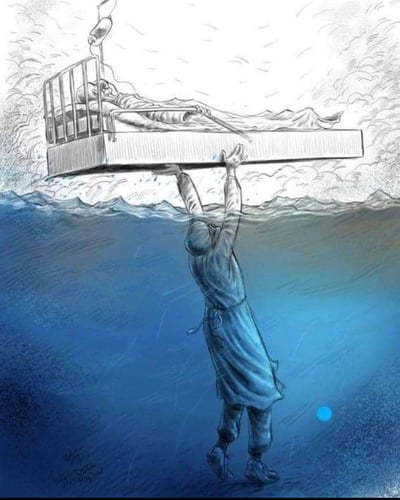 IMAGE UPDATE:
Thank you to Leila and Kim (see the comments) here is the artists' Facebook page about this image: Bozorgmehr Hosseinpour (born in 1976) is an Iranian cartoonist. Head over there and like his page please.
============
You must find your own off switch on this programming or burnout is inevitable:
When you are with the patient, the patient comes first
When you are not with the patient, we must each have an off switch and a solid, healthy boundary on that same program, so we can recover before stepping back in the game.
Here is our Boundary Ritual Training so you can come all the way home and start your recharge. (6:59)

Get ready to take a few notes and pick your personal Boundary Ritual

The Boundary Ritual is just one of the trainings in our
Burnout Proof MD Physician Support Ecosystem
Access to our 5 Top Trainings

2 hours of group coaching every week

And our private, physician-only support community
Learn More and Join us in Burnout Proof MD
~~~~~~~~~~

PLEASE LEAVE A COMMENT
How is your energy level lately?

Are you under water at this point?

What is your Boundary Ritual?