When you take new actions towards your Ideal Job, you must release your old definition of Failure.
Einstein's Insanity Trap shows the only way to get new results is to take new actions. To increase your practice satisfaction, you must take new actions at work and at home. You have to do things you have never done before.
What if things don't work out as you planned? What if you try something new and don't get the result you expected?
Was that attempt a failure?
Not even a little bit!!
What you did was conduct an experiment. You gathered some data in response to your new action and put yourself in the position to have a learning experience.
You can fail in this quest for your Ideal Practice, most doctors do. This failure is one of the causes of the current 63% burnout rate.
However, when you are building a more Ideal Practice, it is impossible to fail by taking new actions.
Let's redefine failure and get started on Your Ideal Practice in this final lesson in our Take Back Your Practice series
~~~~~~~~~~
This is part 5 of our
Take Back Your Practice Video Training Series
Lesson 1: Lightworker vs. the Whirlwind is Here
Lesson 2: Origins of the Whirlwind and Your Way Forward is Here
Lesson 3: Building your Ideal Job Description is Here
Lesson 4: The Master Plan to Take Your Practice Back is Here
~~~~~~~~~~
In This Lesson:

Quick review of the Ideal Job Description System
Reframe FAILURE and give you its true definition
Show you why it is important to you and your family that you start building your Ideal Practice Now.
Give you a path to becoming Burnout Proof.
~~~~~~~~~~~~
The BURNOUT PROOF MD 3- Layer Physician Support ECOSYSTEM
Learn More and Start Your 30-DAY FREE TRIAL Here
~~~~~~~~~~~~


Downloadable Audio File Is Below
LISTEN HERE - just hit the orange PLAY Button
Or DOWNLOAD to play at your convenience with the Down Arrow in the Top Right of the frame below.
Stop Physician Burnout:
Reframe Failure and Get Started
TRANSCRIPT:
Hello again, Dr. Dike Drummond here with the last of our five video overview of the Take Back Your Practice system, our ideal job description process that allows you to take your practice to whatever level of satisfaction you'd like it to be.
Let's do a quick review:
We started by talking about what the 63% burnout rate amongst physicians in the USA here in 2023 really means. Basically, you're a light worker, and every day is like a whirlwind. And at this point in time in the battle between the light worker and the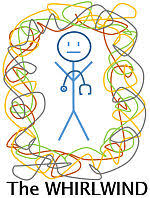 whirlwind, the whirlwind is winning.
Video number two, we talked about why? Well, most American physicians are employees. And when you took this job, your employer pulled your job description off the rack. And that job description was not something you played any role in developing. In fact, it was developed specifically to meet the business model and the revenue model of your employer. So no wonder there's a conflict between you wanting to practice good medicine, make a difference, be a helper and a healer, and the financial constraints of the performance of a large organization.
Then we talked about, how do you get out of this predicament? How do you get out now again, it doesn't matter what your current satisfaction with your job is, if it's a two out of 10, or if it's a seven out of 10. If you want it to get higher, if you desire, more satisfaction, meaning and fulfillment in your job, the process I took you through will get you there.
So let's just review it.
First thing you do is focus on what you want. Because the reality is, you can avoid everything you don't want, and you still won't get what you want. Because the only way to get what you want is to figure out what that is, and go get it. Decide what you would run towards, not what you want to run away from. We call it an IDEAL JOB DESCRIPTION. Write on a piece of paper, my ideal job description. Put a date. Write everything down, about what you love to do, what kind of patients doing, what kind of stuff or what kind of hours, what kind of pay, and what kind of team and what kind of organization where in the world. And you may have never contemplated that before. It takes a while to wake up. But this is the key to the spiritual archery range where you get to be the archer who pulls the bow that fires the arrow of your practice at the bullseye. That is your ideal job description.
We also talked in the last video about building your MASTER PLAN. Now you get to take another piece of paper, put my master plan and write down all those things that you would want to change, where every one of the changes would give you movement towards your ideal job description, increase the overlap of that Venn of happiness. So now you've got that list. Last time I told you pick the little ones, pick the little ones.
Now it's time to throw this practice optimization plan into gear.
Now even though this is the last of this five part video series, it certainly isn't the end of anything. And it isn't a graduation. This isn't a completion of anything except you now understand the ideas as I've proposed them, focus on what you want, not what you don't want. Build the ideal job description, Master Plan, take steps in the direction of your ideal job.
That's all easy to understand.
Here's the thing about doctors. We were trained in our medical education. And remember that was years worth for me family doc, seven years in the system. For med school, three residency, we were trained over and over and over again to study a concept until we knew we could answer the multiple choice question.
When we're talking about your practice, your job, your practice your career and your life. Once you're out of the education system. You're with me, there's no multiple choice questions. Nobody really cares what you understand, intellectually. The question is, what are you going to do with it?
So I've just given you a plan that works every time I've seen a person deploy it. Every time I've seen a person deploy it with coaching and accountability and taking regular steps, it works every single time. But they had to take action.
That's why this master plan is so important. That's why pick an easy thing first is so important.
And what I'll tell you is, a lot of times what happens is we run up against a concept of failure. And here's one of the things that some people call failure. You're going to do something you've never done before. And then you think you know what's going to happen. But when you take this action, it doesn't work out the way you planned.
And you might think to yourself, that was a failure.
And I'll tell you that stinkin' thinking, let it go big breath. That is not failure.
You took an action you've never taken before. You conducted an experiment and you got feedback. and you hopefully learned something. Because that's the whole point of doing something new is to have a learning experience.
What I love about doctors is, we are quick. We are smart, we see patterns easily. It's part of the diagnostic toolkit. So when I see a doctor, try something new, and it doesn't work out the way they planned, it's almost always true the next time through that action plan, they're going to get it to work out perfectly.
So if trying something new and getting an outcome that you didn't expect is not failure.
What is failure?
Failure is knowing that if you change your actions, you will get new results.

Knowing you're not adequately satisfied with your career right now.

Knowing some options of steps you might take to build a more ideal practice.

And allowing yourself to be hypnotized by the whirlwind, and frozen in Einstein's insanity trap, and failing to take action.
Burnout can be a chronic state, you can sit in the dirty diaper of a practice that doesn't work for you for a very long time.
And I gotta tell you, this gets really personal, and, and deep felt for me, for a very simple reason. Fortunately, for me, I have the perspective of a 64-year-old person. I've lost my mom, my dad, my stepmother, and just last weekend, my mother-in-law. And I can tell you that having gone through that amount of loss if you're around my age, or you've lost family members like that. I don't know how it affects you, It affects me in a way that I want to make sure that I rededicate myself to a life that's worth living, to rededicate myself to making the difference that I was put here to make in one precious life that I was given.
And when I think about my parents, my stepmom, my mother-in-law, and I think about them from beyond wherever that is, what advice they would give to me. And some of them gave me this advice before they died. And that is, go for it. Go for it.
So if you are not 100% satisfied with your career, your job your practice right now, I encourage you to think about it from a future perspective. Think about it from the perspective of your ancestors are the ones who are alive who love you, what would they want you to do if they knew you had a chance to take some new actions and have a more fulfilling and meaningful life.
So now that you know the high level structure of how the process works, what I want you to know is this has been the core of our coaching program for physicians ever since I started my physician coaching practice back in 2010. All seven of us coaches here at TheHappyMD.com follow this basic structure with our clients. And because it's led by you and your vision of your ideal practice, it's always right on point.
Typically, over six to nine months of steady action towards a more ideal practice. 70% of people will graduate from coaching, having created enough satisfaction and enough overlap with their ideal practice that they feel they've graduated, they have succeeded in reversing their burnout. 30% of our clients end up needing to have a job change in order to get a more ideal practice. And because our Ideal Physician Job Search Formula training is cued on the ideal practice, they all get at least a 70% match or they won't say yes to a new job opportunity.
But my point is this takes time and dedication and support and follow up.
Previously all we had to support you with was one-on-one coaching which can be a little bit pricey. But now over the course of the years of COVID we digitized all of our training resources and can now offer you a completely new three-part physician support ecosystem that's interlocking methods work in a way that's so supportive. I call it an ECOSYSTEM. It's called BURNOUT PROOF MD.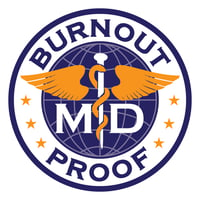 BURNOUT PROOF MD is a combination of

1) COACHING: Two hours every week of group coaching for members of the community.
2) TRAINING: Our top five online training programs, unlimited access access to them. To teach you how to recognize and prevent burnout
be the eye of the storm at work.
The job search formula training is in the library,
as well as manage your boss and
physician leadership power tools.
3) COMMUNITY: And we also have a private members only online support site that houses the recordings of all of the coaching calls, all of the trainings, and an entire Facebook-like web interface where we can post and support each other send us direct messages.
It's a completely immersive experience where you can dip in a toe and get whatever support you need. Attend to call whenever you need one, we're always there for you. You're never more than a week away from another support call. So that you can work this plan yourself with all the training and support you need to make your job as satisfying as you would like it to be, or find a new one. That's basically guaranteed to be better than this one, if that's what needs to happen next.
The most fun part I think about BURNOUT PROOF MD is that we have a 30-DAY FREE TRIAL.
This means you can cruise the whole system for 30 days. You can attend four coaching calls if you want. at no charge. Your credit card will be checked to make sure it's valid when you sign up. But there is no charge until 30 days. And anytime you want to quit if you say this is not for you. If it doesn't work out, just let us know. And we'll stop your membership and stop the charge you won't be charged a penny.
So I encourage you if this sounds like it would be the kind of support you're looking for. A place where you can step out of the whirlwind every week and talk to like-minded doctors all working on the same thing, everybody's there to build a more ideal practice. If you'd like that support every week, if you want to see the trainings, in whatever detail works for you, I encourage you to grab the link down below the video frame here and come on in. And check out burnout proof MD for a full 30 days at no charge just to see if it works for you.
I'll be there at every one of the Wednesday coaching calls except the few that I can't make because I'm on the road training. And I encourage you one of the keys to living a more satisfying and productive life as a physician is to stop tolerating anything less than ideal. I'll help you change your actions will move you in into a better place. And you'll always be only a week away from the kind of support that you may never have experienced in your career before.
That's it for now. Hey, here's your ideal practice. Here's to your ideal practice and making it come true for you in this one lifetime. Until I see in one of the videos inside the program, keep breathing and have a great rest of your day.
~~~~~~~~~~~~~~~~~~~~~~~~
PLEASE LEAVE A COMMENT
What did you learn from this lesson?