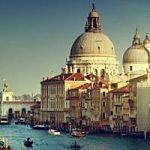 One of the most overlooked components of your strategy to prevent physician burnout is to make sure you take regular long vacations - two weeks every other year at a minimum. A previous blog post shows you a foolproof method to get your vacations scheduled and implemented.
We also recommend you shoot for your bucket list whenever you can, to get the most of your time away from your practice.
Here is one of Sherri and my bucket list items for sure. Come along with us on a sunset ride down the Grand Canal in Venice on the #1 vaporetto from Piazza Roma to St. Marks Square.
--- make sure to grab your favorite beverage and display this full screen ---
Sit back, relax and enjoy ... then get busy planning YOUR next vacation.