This mornings headlines in my InBox were dominated by a pair of suicides - one ER Doctor and one newly graduated EMT
Dr. Lorna M. Breen, the medical director of the emergency department at NewYork-Presbyterian Allen Hospital.
FDNY EMT John Mondello, 23, graduated from the EMS academy in early February and worked with the Tactical Response Group in the Bronx
This is a heartbreaking loss. Tragic to an extreme.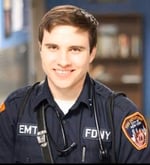 It is one thing to die doing what you love ...
It is another to die from your own hand, because the pain of doing what you love is too much to bear.
A Lightworker's burden ... may they both rest in peace.

This highlights the need raise our "I've got your back" caring for team mates to a whole new level. Time to step up.
==========


We know three things for sure:
1) Doctor's suicide rates are twice normal to begin with.

In non-pandemic times research shows 6% - 7% of doctors say "YES" when asked, "Have you thought about suicide in the last 12 months?" This is our baseline as doctors. That has been a common question on burnout surveys for years. The 6 - 7% "yes" rate is solid, constant, predictable ... in NORMAL TIMES.


2) All significant public health crises will cause increased depression, drug and alcohol use and suicide in the care givers.

We know this too. Here is a paper detailing the long psychopathology tail of the 2003 SARS outbreak in Toronto.


3) Some suicides are preventable.

Crisis hotlines are not much use for us. Doctor's and EMT's are programmed to put the patient first and never show weakness. We don't ask for help.

What is needed is outreach
You can't prevent all suicides. You can prevent some if you reach out and let your people know you care. Reach out and ask how people are doing every day. Reach out with even more care and support when anyone is showing stress. This is the highest and best use of your Team Huddle.
If you get the standard answer of "fine" and your gut tells you that is a bunch of hooey, go deeper.
Here is a brief video training on how to Reach Out to a Colleague In Distress.
Give the "take your doctor hat off" approach a try

on the job and watch what happens.



Share this with your colleagues and leaders

to build that culture of caring that is a potential life saver in these difficult times.

============
PLEASE LEAVE A COMMENT:
How does the hat technique work for you?
Have you noticed people say "fine" when it just isn't true? What are your tips to connect when the doctor programming is strong like that?