Here's the first episode of our new Physicians On Purpose (POP) Podcast - a Lesson on How to Escape the Whirlwind of Your Practice.
Learn about our new Podcast from the Physicians on Purpose Community and I teach the #1 method to prevent physician burnout - a reliable way to escape the whirlwind of your practice.
Choose your favorite absorption method below:
Video
Audio (downloadable, embeddable and shareable)
And written transcript
Podcast Transcript:
Physicians on Purpose Podcast
Episode #1 – Step out of the Whirlwind
Dike Drummond MD, CEO TheHappyMD.com
Hey, Dr. Dike Drummond here at the home of TheHappyMD.com outside of Seattle, Washington, we actually live on the shores of Lake Tapps between Tacoma and Mount Rainier, all the way up top left in the United States of America.
This is a trailer of sorts for our new Physicians On Purpose podcast.
I've been working with burned out docs as a coach and a trainer and a consultant for the last 10 years. Yours. And I've actually trained 40,000 doctors in live settings for 175 companies to date, there's so much to share so many people out there that have been through burnout and back again, all of us have stories that we can tell.
And so I want to start doing a podcast where we all step out of the Whirlwind together to share these experiences, so we can all learn together. In this first episode, all I want to do is just teach a basic concept and that's the concept of the Whirlwind.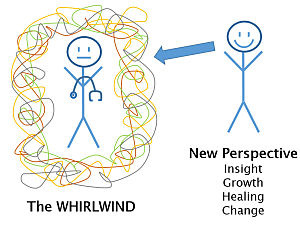 You see, for physicians, modern life and the practice of medicine is much like stepping into a Whirlwind. You walk into your office, your hospital, you walk into your practice, and all of a sudden things are coming at you from all sides, your staff, your patients, the very functions of your job, documentation, EMR, and on and on and on.
The challenge with the Whirlwind is this: from the inside of the Whirlwind, all you can see is the inside of the Whirlwind. And that viewpoint is nothing but mostly hassles and problems and things that shouldn't be this way.
But the Whirlwind has gravity. It's like a hall of mirrors, you have to actually escape the world and you have to step out of the Whirlwind. In order to be able to see what's really going on. You have to establish a different level of consciousness in order to be able to see patterns you might change, to make your life easier and to prevent burnout.
So the healthiest doctors that I know have a regular habit of getting out of the Whirlwind, a habit, a cadence, or rhythm.
And what I'd like to do is propose that our physicians on purpose podcasts will be a piece of your rhythms stepping out of your Whirlwind. Einstein said, no problem can be solved from the same level of consciousness that created it. Stepping out of the Whirlwind is the new level of consciousness that will give you new insights to help you take new actions to get new results.
So that's what we're going to do here is step out of the Whirlwind together in each episode, to share stories of tools to recognize and prevent burnout, stories of burnout done well put to its highest and best use, which is basically to make you so uncomfortable, you have to change. And when it's done well, the change that you make is one towards more purpose. And then last, but not least, many of you are in leadership roles.
This is the place we're going to share some leadership strategies, some simple tools that we've developed simple tools that you're going to tell us about and the way you use them that help you create an environment of health and wellbeing on your work teams. As you at work, put the patient first.
So wherever you get your podcast, please subscribe to Physicians On Purpose, and we'll get together in the next episode outside the Whirlwind. Until then you keep breathing and have a great rest of your day.
============
PLEASE LEAVE A COMMENT:
What is your favorite method to step out of the whirlwind?