Maternal Discrimination in Medicine - Blatant form of healthcare gender bias documented in two new studies
Two studies released this week felt like dueling head slaps as they rolled through social media. Both document a slight twist on the typical gender bias against women that is pervasive in the world of medical education and the practice of medicine.
These two studies were not just about healthcare bias against women for being women - the "Curse of the Double X" I have written about before. This garden variety gender bias plays a huge role in physician burnout for many women physicians in my coaching practice.
These articles lay out a different flavor of bias against women - specifically because of a super power most carry at all times. I am talking about the THREAT OF FECUNDITY.
I always make a point of asking the women physicians at our live trainings if any man has ever said this to their face, "I don't know why we let women go to medical school, you are just going to quit and have babies."
How many say, "Yes"?
95%
Everyone knows about that kind of Conscious Gender Bias
It is out loud and in your face. I have asked thousands of doctors this question and I am surprised to report even here in 2018, recent women residency graduates have had that statement thrown in their faces over 90% of the time too.
And then there is Unconscious Gender Bias
- where a woman physician is expected to say yes and comply if you ask them to bake cookies for Thursday's staff meeting
- or the female physician on the panel discussion is the only one introduced by her first name.
These two studies document a slight twist in gender bias described as Maternal Discrimination
This is not someone discriminating against your mother. It is someone discriminating against you for having a functional uterus and the superpower of carrying a baby to term. It's a miracle, a mystery, something your male call partners cannot do and obviously a threat to some people in positions of power.
============

Here is medicine's subconscious fear when it comes to women physicians:
At any time

[with no warning whatsoever,
and when it is least convenient to your call partners]
you could be come PREGNANT and HAVE A BABY !

[and I would have to cover all your patients ... ARGGHHH]
============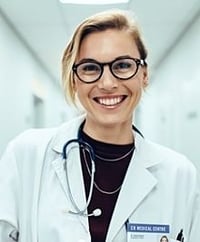 This threat of fecundity surrounds most female physicians or female applicants to medical school and residency programs.
Babies Happen - sometimes more than one (GASP) - always to women - and even to women doctors.
When a baby happens, the woman must pause their medical career temporarily and their partners must find a way to cover the patients in that gap. It could be just that simple, but NOOOO.
This appears to be a big problem for some people and some institutions. Their solution?
Block women from becoming doctors in the first place

Discourage women from becoming pregnant

Make it difficult for them to have a baby, take maternity leave, rejoin the program or practice

Discourage women from enrolling in a specific residency or fellowship unless she can keep her uterus in check
=============


Two Current Examples of obvious Maternal Discrimination in Healthcare Education


Example 1)
In Japan - the thumb on the scale of medical school applications:
Here is the Washington Post article:
A medical school in Japan didn't want too many women. So it lowered their grades.
"Tokyo Medical University, a private institution consistently ranked among the country's best for clinical medicine, has been automatically lowering the entrance exam results of female applicants for the past decade, an attempt to keep the ratio of women in each class of students below 30 percent, the Yomiuri Shimbun reported. A specific coefficient was reportedly applied to the scores of all female applicants, lowering them by 10 to 20 percent.

Kyoko Tanebe, an executive board member at the Japan Joint Association of Medical Professional Women, told the Japan Times that other medical institutions probably have similar policies that discriminate against female applicants.
According to recent data from the Organization for Economic Co-operation and Development, women make up less than a quarter of doctors in Japan — the lowest proportion among the 34 OECD countries studied."
All this - for a decade mind you - at a time when Japan has a shortage of doctors. Estimates are that Japan sits 120,000 doctors short of OECD Nation averages for doctors per capita.
Why are they doing this?
"According to an unnamed source who spoke to the Yomiuri Shimbun, the school thought female students would eventually leave the medical profession to give birth and raise their children."
Now THAT sounds familiar for sure.
"There was a silent understanding [to accept more male students] as one way to resolve the doctor shortage," the source said, adding that the policy was a "necessary evil."
So there you go. Systematic discrimination against female applicants because of the very same good-old-boy logic we hear in the states. My American female friends are disgusted, yet not surprised by this news. That exactly the reaction I would expect from an American woman and here is my big question.
What do the Japanese think?
In Japan, among native Japanese, what do normal people on the street think about this policy? How about Japanese doctors? What do they think? AND is there a major difference in opinion between men and women in Japan?
Ready for one more example?


Example 2)
In the USA - bias against "the Gravid Surgery Resident"
From JAMA Surgery August 1st, 2018;
Erika L. Rangel MD; Heather Lyu MD; Adil H. Haider MD MPH1, et al
Factors Associated With Residency and Career Dissatisfaction in Childbearing Surgical Residents

This was a 2017 online survey of women who "delivered at least 1 child during a US general surgery residency".
347 women responded to the survey and reported 452 pregnancies.
Their mean age was 30.5 years. (SD = 2.7)
Here are the headline findings:
"Surgery residents who perceived stigma during pregnancy, did not have a formal institutional maternity leave policy, or altered their fellowship training plans because of challenges of childbearing expressed greater professional dissatisfaction."
Now let's dive into the specifics:
Half of med school applicants are women
Only 1/3 of applicants to general surgery residencies are women
50% of post-match fourth-year medical students reported questions regarding plans for pregnancy during their surgical residency interviews
After entering surgical residencies,

women have higher rates of attrition than men (25% vs 15%),

with uncontrollable lifestyle being a commonly reported reason

for leaving the profession
More

than

one-third of respondents reported seriously considering leaving residency owing to the challenges of balancing residency with pregnancy and motherhood
39% of respondents agreed with "considered leaving"
27% of respondents agreed with "revisit career choice"
30% agreed with "advise against surgery"
Female surgeons spend

more time fulfilling parenting obligations

, are more likely to report that

child-rearing has slowed their career

, and experience

more work-home conflicts

than their male colleagues
Nearly half the respondents of this study reported their training program lacked a formal maternity leave policy, which was associated with the desire to withdraw from residency
Pregnant residents in programs without detailed maternity policies experience negative influences from their colleagues who are asked to unexpectedly cover their workload
Structured service coverage plans that provide equal distribution of responsibilities, with the pregnant resident completing more difficult rotations earlier in pregnancy, may reduce resentment from peers and increase predictability in subsequent maternity leave
Residency programs are

not required by the Accreditation Council for Graduate Medical Education to offer these alternate pathways

to accommodate parental leave
Sixty percent of respondents to this survey indicated that pregnancy during residency was correlated with stigma- being viewed as "a burden on colleagues," "lazy," or "not carrying my weight."


The author's recommendations:
Workplace interventions that increase duration of maternity leave, improve childcare, and provide lactation support may

Mitigate perceived stigma

Decrease apprehension associated with requesting accommodations

Provide predictability for peers when planning for a pregnant resident's leave

Increase program appeal when recruiting future trainees
Practical and successful solutions for childcare include access to onsite daycare,

backup child care,

and financial childcare support
Breastfeeding residents should be supported in their need to pump milk during long cases by permitting periods of cross-coverage by fellow residents and by providing appropriate lactation facilities near the operating room
Role models of the same sex and subspecialty are essential to challenge negative stereotypes
=============
What can be done about all this?
Some very practical practical steps are obvious and it is extremely important to recognize the role of leadership vision in any change effort. Japanese medical schools and certain general surgery residency programs may have no interest in changing the current status quo. It will take a clear vision of equal opportunity and a lot of hard work to level this playing field.
IF Your Program is committed to welcoming women into medical school, residency and the practice of medicine - on an equal footing with men.
If Your Program is committed to accommodating pregnancy too -mitigating for the uncontrollable lifestyle and making it just "something that happens around here sometimes".
Then here is a list of practical recommendations:


Level the playing field

for admissions to medical school and residency regardless of gender - make sure no one's thumb is on any scale of any kind
Set up the structure of your training program to accommodate pregnancy

with

Structured service coverage plans for pregnant students/residents

Breastfeeding policies and facilities

Onsite daycare, backup child care, and financial childcare support
Have a detailed and highly visible maternity leave policy

- it should be mandated by all medical education governing bodies just like a wellness program will be in 2019
Recruit and support female faculty members
Don't ask female applicants questions about plans for pregnancy in interviews

- it should probably be illegal
Ask male applicants

their attitudes about female colleagues and the possibility of colleague pregnancy and leave
Provide education on conscious and unconscious gender bias

to all students/residents and faculty
Actively look for and root out bias against women and pregnant women

in all clinical and educational settings
==========
PLEASE LEAVE A COMMENT:
What gender and pregnancy bias and discrimination have you exposed to or witness in your education and practice?
What additional recommendations do you have for workplace policies to prevent and mitigate against this bias?