Last week Amazon announced you can now "see" a doctor via Alexa.
Customers can connect with Teladoc by saying "Alexa, I want to talk to a doctor." They'll get a call back on their device from a Teladoc doctor. The "visit" costs $75 for people without insurance.
That's right, an episode of "care", disconnected from any local, primary care relationship or continuity of any kind. No vital signs or any hands on physical exam. At the very least I predict massive overprescribing of inappropriate antibiotics and a new urgency to our battles with multi drug resistant bacteria.
But that is not the worst impact by any means.
Is this how primary care in the US healthcare system eventually dies?
Is this the knockout punch for your local primary care physicians, just like Amazon Prime laid waste to all your small local retailers on main street?
~~~~~~~~~~~~~
Take Back Your Practice
BurnoutProofMD 3-Layer Physician Support Ecosystem
~~~~~~~~~~~~~
Taken out by what will ultimately be a holographic virtual doctor.
Projected out of the top of Alexa's head
With a virtual degree from virtual Stanford
With your choice of McSteamy or McDreamy models
In any of 100 languages
Like This???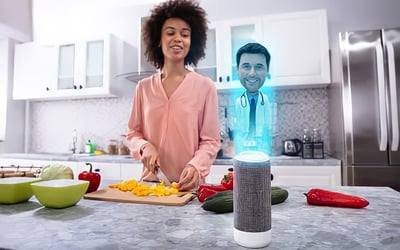 BTW, I commissioned this image in August of 2021 as A JOKE!!


This blog post is written in response to this post on TheVerge.com
Telehealth visits now available through Amazon Alexa
=====================
PLEASE LEAVE A COMMENT

What do you think the US primary care industry will look like in 2025, especially in the light of this development?