~~~~~~~~~~~~
This Blog Post is Eligible for CME Credit Via CME.fy
- Here is a 2 min overview of the Free CMEfy.com System
Here is your CME Credit Link
The CE experience for this Blog Post is powered by CMEfy
click here to reflect and earn credits: https://earnc.me/VtzyWb
~~~~~~~~~~~~

3 Ways you must prepare for this conversation
to get your questions answered and
and not get labeled disruptive in the process.


FIRST:
You must realize you cannot persuade anyone here. This is not a debate where you can somehow win the engagement. What you are doing is revealing the true nature of the leader or leaders who are involved in this conversation.

It is much like a TELL at a poker table.

You take specific actions.
Watch how the players respond.
Use their response to see into their hand - know what cards they are holding.

Here you are asking questions to discover the orientation of your leader's heart and mind.
HEART: Are they capable of enough empathy to do something about our current struggles - to actually build a better workplace and a better culture here?
HEAD: Do they understand wellbeing is the only legitimate foundation of performance?


With this question you will know in less than a minute whether there is any chance for a proactive physician wellness strategy in your organization.

SECOND:
You must rehearse these questions so you ask them out of true curiosity. Make sure you take all sarcasm and snark out of your voice. Commit to not losing your temper, no matter what. Rehearse, Rehearse, Rehearse.

THIRD:
You must prepare the ground. You can't drop this line of questioning on your CMO out of the blue. You must have a relationship with them in order to build the trust needed for them to tell the truth. Ideally this is someone who you meet with regularly - monthly is best - in routine conversations to stay on the same page.

If that is not true, I recommend you begin meeting with this person on a regular basis and plan to have this conversation after 4 - 6 pleasant, scheduled interactions.

OK --- you have rehearsed thoroughly, met with this senior leader at least four times in pleasant conversations and you understand this is not a debate. Take a big deep breath .....


POWER QUESTION #1:
What role do you believe
the health and wellbeing of our physicians and staff plays
in the Quality and Quantity
of care they provide?
NOTE:
When you ask this question, you must commit to NOT BE the next person who speaks.
In most cases there will be a significant pause. The other person may even stop breathing for a beat or two. You will be very tempted to start speaking to ease the tension. Your task is to breathe and wait to see what they say. Their TELL will arrive shortly.


1) If your boss blusters and attacks you with a paranoid diatribe about you trying to trap him/her with your trick questions - or if they go on about "not working hard enough" ...

- thank them for the conversation and politely end the meeting
- prep your resume
- start looking for a new job
- get out of there
- don't be the last one off a sinking ship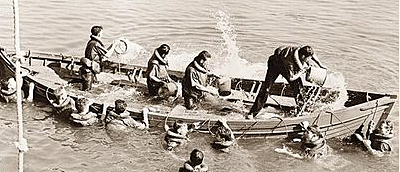 2) If you boss acknowledges that wellbeing is important in both quantity and quality of care provided
AND
You do not have a meaningful physician wellness program in your organization

Take heart in the fact that your boss has both insight and heart. Let's get them the tools and support!

Here is question #2
POWER QUESTION #2:
Why do we not have a proactive
physician wellness program for our people?

This answer will give you TELL #2



1) If they immediately blurt about no money or time for this kind of nonsense and dismiss any thought of building a wellness strategy or any empathy for the plight of their employees - get out of there.



2) If they say something like, "I understand where you are coming from ... and I would love to build a better workplace and take better care of our people ... but where do you get started?" ... and it appears genuine, here is a useful next step.
Share these two blog posts to begin their wellness education.
Make sure you read them and are clear on the concepts first.
1) The Triple Competitive Advantage of Physician Wellbeing
https://bit.ly/3X-Advantage

2) How to Prevent Physician Burnout as Simply as Possible
https://bit.ly/SimplyAsPossible

These two lessons in Wellness Leadership are the best next steps to persuade a willing and curious senior leader to contemplate building out a true, proactive wellness strategy.
If they respond in a positive fashion to these concepts and acknowledge wellness is the only foundation for performance and want to do something to become the employer of choice in the area ... then we need to talk about next steps.
How we can help:
If there is a will for wellness, we can dramatically accelerate your efforts in a number of ways. Contact us for a Wellness Strategy Consult to discuss your situation in detail and get some advice for specific next steps.

We can train you to be a wellness champion and lead the design and deployment of your corporate wellness strategy.
We can train your people to recognize and prevent their own burnout either live and in-person or with our Burnout Proof Online Workshop Video Training Library.
We can launch your wellness strategy with an on-site day of strategic planning and then support your wellness committee with an entire year of coaching.
WILD CARD
If you find yourself in an institution that claims to have a wellness strategy and you see no meaningful impact, you are not alone. This is extremely common especially in large academic medical networks and especially if you are one of the locations furthest from the system hub.
Contact us today to discuss how your organization can get some immediate traction rather than just the smoke and mirrors you are witnessing now.
~~~~~~~~~~~~


PLEASE LEAVE A COMMENT
Do you have a wellness program in your institution?
Has it made your work life better/easier?
Does your senior leadership team understand the value of physician and staff wellness?
Are you feeling called to speak up or help lead wellness in your institution?