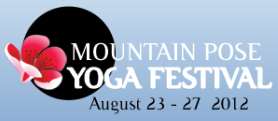 Yoga and Medicine make a natural combination to maintain your center emotionally and energetically and maintain fitness at the same time. I am a huge fan of hot Yoga (
Core Power
in the Twin Cities was my initiation ).
I just ran into this tremendous resource today and have to share. It is a 4 day Yoga and Medicine Conference with up to 16 hours of CME running in conjunction with the Copper Mountain 28th Annual Genuine Jazz and Wine Festival.
Does it get any better than this?
Yoga in the mountains with jazz and wine.