Do you need personal help and support right now?


Our team of Certified Physician Burnout Coaches is ready to lend a helping hand.
Book a FREE Discovery Session Phone Consult - a full hour to discuss your situation in detail and give you an action plan for a way forward.

No Cost - No Obligation - Completely Confidential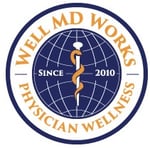 Are you a Physician Leader?
Learn how to tap into the Triple Competitive Advantage of an effective Physician Burnout Prevention Strategy in your organization.
Our Corporate Support Services Page is HERE


---
Your Medical Education Did Not Prepare You for these Uncertain Times
Here are 3 More Ways We Can Help
---
1) >> BurnoutProofMD 3-Layer Physician Support Ecosystem

You Are Not Alone

In your search for meaning, fulfillment and satisfaction as a modern physician, you have kindred spirits and allies in our BurnoutProof MD Community.

Three distinct support layers.

1) 2-Hours of Group Coaching Every Week
Video, Audio and Table of Contents and CME for each call

2) Our Top-5 Trainings share our 40,000 doctor experience preventing burnout

3) Our private, members-only, physician-only online networking and support portal (think private Facebook group only much better). Our tribe of like minded physicians has your back 24/7.

And up to 100 CME Credits each year.
CLICK HERE to Learn More and Watch the Webinar Tour


---
When it's Time for a New Job - Learn the Tools to Guarantee a Much More Ideal Practice
2) >> Ideal Physician Job Search Formula


Turn your job search on its head so you are completely in charge from start to finish. Proven tools to find, lock down, negotiate and onboard you and your family into a new and much better practice.
Learn more and get started Here


---

Become the Eye of the Storm in Your Practice Day with this Evidence Based, Single-Breath Mindfulness Program Specifically for Physicians
3) >> One Minute Mindfulness



Learn how to become calm, at ease, focused - even happy - with a single breath. Learn how to turn this breath into a habit in your work day. We call this "Eye of the Storm" Lessons for a reason. You can become that island of calm in the center of your practice day, no matter what is going on around you.
====================
If this is your first free report from our stockpile of resources here at TheHappyMD.com, you will also receive the HappyMD Newsletter.
Since 2011 we have delivered this weekly newsletter to keep you you updated on the latest developments in physician stress relief, burnout prevention, leadership skills and communication tools.
You can unsubscribe any time you wish with a link at the bottom of each email.
====================



If you have any other questions about the MATRIX or implementing its tools Please Click Here to send me a direct message
Enjoy the MATRIX, keep breathing and have a great rest of your day.
Dike
Dike Drummond MD
TheHappyMD.com