From all of us here at The Happy MD, thank you for a 2014 that was beyond all expectations
All of us here at The Happy MD have had a year of milestones, none of which would be possible without you.
Here is short Holiday Thank You Card and tour of Seattle's world-famous Pike Place Market. You will even see the flying fish!
Let me take this opportunity to thank some very special people individually
~ Thank you to YOU - for being a member of our community of physicians now over 5000 strong in 63 countries around the world.
Thank you for believing in and supporting our mission to create medical practices and workplaces that acknowledge the humanity of the doctors and staff who care for the patients. Our mission is to redesign the practice of medicine so you can be an effective physician and a happy, healthy, well rounded person at the same time. Thank you for your support.
~ Thank you to all my coaching clients and Discovery Session participants.
Once again you have taught me what works in the real world to help doctors lower stress and prevent burnout. Our conversations are where all the blog posts and the book came from. Thank you.
~ Thank you to the entire book production team.
"Stop Physician Burnout" would not have been the quality you see in every page without my editors, Erica Hayes and Hanne Moon and my typesetter, Clark Kenyon. Thank you to all my clients who agreed to provide the case studies and all the organizations an individual doctors who have supported this important work by buying a copy and even providing an Amazon review.
~ Thank to all the organizations and societies who brought us in to provide workshops to your people, especially my old residency director Perry Pugno and the AAFP.
~ Thank you specifically to Tad Jacobs, Dave Flicek and the Avera Health System in Sioux Falls for allowing me to work with all your people and for your caring about them so deeply.
~ Thank you to Sarah Wendkos, my assistant, without whom this work would not be possible.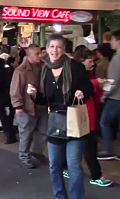 ~ And thank you to my wife Sherri, for all her love and support and believing in me and this mission so deeply. That's her dancing and singing to the guitarist and Oh Bla Di Oh Bla Da in the video.
==========
We sincerely hope you get some time off to simply BE with your family, that you find many things for which you are grateful and that 2015 provides you more joy and satisfaction than you can imagine.


May we be free from danger
May we be happy
May we be friends to our bodies
and may we dwell in peace
Have a wonderful holiday season and a Happy New Year.
Dike
Dike Drummond MD
www.TheHappyMD.com