Physicians and Sleep Deprivation:
Sleepy's, the mattress chain, hired researchers to analyze data from the
National Health Interview Survey
to determine which occupations, on average, produce workers who sleep the least and the most.
The lists are based on interviews with 27,157 adults as part of the annual National Health Interview Survey, conducted by a division of the Centers for Disease Control and Prevention. Sleepy's says its rankings were based on two variables:
1) average hours of sleep that respondents said they got in a 24-hour period, and
2) respondents' occupations, as they would be classified by the Department of Labor.
The jobs with the most sleep-deprived work forces are below, starting with the most sleep-deprived at the top: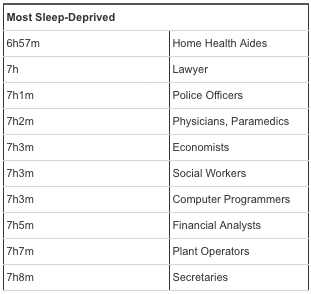 As you can see, physicians are number four on the list in a dead heat with our paramedic brethren. I do have a quick question… what is keeping economists and secretaries up at night (and that is the first time I have seen the word secretary in a while!)
Here's the list of the most well-rested professions, with the occupation getting the most sleep at the top: