Our Physician Coaches:
Harjot Singh, MD

Harjot Singh, M.D. is a keynote speaker, author, and a leadership consultant. He helps doctors and leaders master skills never taught in training so they can lead for success and live with joy.
He speaks at national level meetings and in boardrooms across the country on many topics - wellbeing, leadership, engagement, team productivity, and the infamous S.O.B.'s (stress, overwhelm, burnout).
Participants enjoy his energizing messages delivered online or in-person. He also focuses on organizational level change, working with C-suite leaders to design tailored programs. A strategic thinker, he helps them see possibilities full of potential where others see problems.
====================
CLICK to schedule your Free Discovery Session with Dr. Singh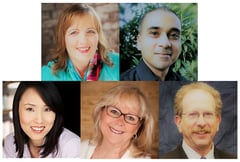 ====================
Doctors are thrust into many roles and they struggle with turnover, disengagement, burnout, and disruptive behavior in their team - all of which affect performance, and contribute to both team and patient dissatisfaction. They feel unhappiness, confusion and self-doubt - huge energy drains within individuals, teams, and organizations. The real problem however is that physicians rarely have applied training to tackle these real life problems.
Bridging the gap from life by default to life by design is what Harjot does best. He is passionate about helping people discover who they really are - like how Yoda helps Luke discover what a powerful Jedi he is, instead of the farm boy he was or an academy cadet he wants to be.
Dr. Singh helps doctors get ready to go to the top, shedding all doubts and inaction by discovering their true selves.
"Just the other day, I had such a moving experience when a physician in one of my training programs shared her victory on day two. From a place of 'feeling clueless forever' the day before, she had successfully moved herself to a place of clarity so she could do what she really wanted to do. And I saw it happen like magic right after she removed her doubts about her identity as a leader."
His clients see the ROI in their work and life that generates energy that grows. And a mind once expanded never goes back to its old state.
A practicing physician, chief of telemedicine services at Kingsview Behavioral Health, and faculty at the American College of Healthcare Executives, Harjot's work is informed by all three perspectives. He knows the pains and pleasures in each role.
Harjot has authored several textbook chapters - the latest one on Physician Engagement for Healthcare Administration Press, published August 2021.

He also writes articles for national publications and features on several podcasts.

During his time at the American College of Healthcare Executives, Harjot started the successful evidence-based training program on organizational burnout.

Since 2016,he also spends time serving as a coach with TheHappyMD.com.
Personal note:
A dedicated family man, he lives in Albuquerque, and is always looking to learn.
============