Our Physician Coaches:
Penelope Hsu, M.D.

Penelope Hsu, M.D. is a board-certified pediatrician and certified professional coach. Her current practice includes clinical pediatric care, private coaching and delivering leadership development programs for hospitals, health centers and agencies working to achieve a balanced, sustainable work culture.
Her particular focus is on creating a culture of wellness that allows the medical professionals who do so much for others finally find a reprieve for themselves.

====================
CLICK to schedule your Free Discovery Session with Dr. Hsu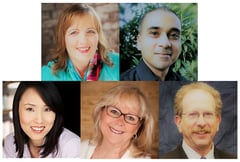 ====================
As a first-generation Asian American, who experienced her own burnout during residency, Penelope is focused on helping physicians reclaim the balance, purpose and passion in their lives. She is too familiar with the pressure of working in a busy ER or private practice, compounded by the pressure to continue to perform perfectly for an exacting Chinese family.
She draws on her clinical and personal experience to deliver workshops on stress management and other burnout prevention tools for the University of Arizona, Thomas Jefferson Hospital and community health organizations in NY. Her passion for helping fellow physicians led her to join the physician burnout coaching team at TheHappyMD.com.
Penelope's coaching philosophy is guided by her unique background. She incorporates tools and insights from her clinical world as well as the holistic spiritual training she has received. She has honed her intuition through practices such as Access Consciousness, a method using bodywork to clear negative thought patterns. Her performance skills as an actor bring a vibrant quality to her in-person workshops.
Her unique pediatric perspective - understanding that most patterns of behavior stem from childhood - allows her to explore her client's needs deeply and create life changing, transformational experiences for them.
Dr. Hsu graduated cum laude with a double major in biology and psychology from the University of Pennsylvania. She attended Upstate Medical University at Syracuse and graduated in the top 15% of her class. She completed her pediatric residency at Cohen's Children's Medical Center at Long Island Jewish Hospital. She is a certified coach and a graduate of the Institute for Professional Excellence in Coaching (iPEC).
Penelope's other passions include performing - she is a proud card-carrying SAG-AFTRA member. She has appeared on various television shows (including General Hospital) and on stage in both LA and NY. Acting, hiking, running by any beach, and enjoying a nice Sangiovese are all ways Penelope uses to decompress and maintain balance in her own life.
============