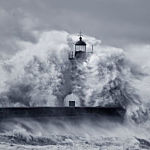 Fee For Service Payment Dark Side = Massive Healthcare Industry Financial Losses in the COVID-19 Pandemic
The Perfect Storm - is this the Beginning of the End of Fee-For-Service Medicine in the USA?
There are MASSIVE LOSSES across the board for every healthcare delivery organization I am talking with - for weeks now.
The Mayo Clinic announcement of a projected $3 Billion 2020 loss was the first specific warning from an otherwise stable provider organization.
$100M in bailout payments to Baylor Scott and White and other Texas hospital systems is just the next in a long line of bad news for healthcare over the next 18 months.
Will this catastrophe force significant changes in the way healthcare is paid for in the USA?
The Old Normal is clearly gone, toast, history and kaput.

The New Normal is well off into the future and only after Darwin has done his nasty thing on the US healthcare industry.

Are fee-for-service and for profit motivations actually on the way out?


Key Resource: Pandemic Survival Guide for Physicians
ONLINE VIDEO TRAINING PROGRAM
5 Lessons to Navigate the Crisis with Confidence


How did it all come to this?
READ MORE NOW