Our Physician Coaches:
Maiysha Clairborne MD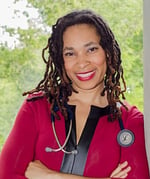 Maiysha Clairborne MD is a physician wellness and burnout prevention coach, a family physician with an active integrative medicine practice, author and trainer.
In her private practice, Dr. Clairborne helps patients achieve and maintain optimal mental and physical health through her integrated wellness programs. Her repeated experience with treating exhaustion and stress related conditions in physicians in her private practice is what inspired her to become certified as a coach here at TheHappyMD.com.
====================
CLICK to schedule your Free Discovery Session Today
====================
Dr. Clairborne understands a physician's struggle to achieve and maintain balance as she herself has experienced burnout twice in her career. She knows what it's like to not only recover but to feel alive again inside her career. "Now I feel it is my calling to pay it forward and empower physicians in this same way."
Maiysha delivers workshops on burnout prevention and creating the ideal career for medical students and residents for the Atlanta Medical Center, Emory University, and Morehouse School of Medicine residency programs. In addition, she has authored two books "Eat Your Disease Away" & "The Wellness Blueprint" and founded and co-hosts the radio show "The Wellness Blueprint" inspired by her book.
Dr. Clairborne received her Bachelors in Psychology from Emory University and her medical degree at Morehouse School of Medicine. She completed her Family Medicine Residency at Florida Hospital in Orlando, FL. She has also completed post-graduate training in acupuncture with The Academy of Pain Research Acupuncture and the International Academy of Medical Acupuncture. She is also certified at with the American Board of Hypnotherapy, the American Board of NLP, and the American Board of Time Line Therapy® as a Master Practitioner & NLP Coach, and is a current fellow in the IMR Fellowship.
Maiysha is a dedicated Ashtanga yoga practitioner, and more importantly a proud Mom. She loves salsa dancing, writing poetry and landscape photography.
Her favorite quote is the Arabian Proverb: "There are four things that come not back. The spoken word, the spent arrow, the past life, and the lost opportunity."
====================
CLICK to schedule your Free Discovery Session Today
====================