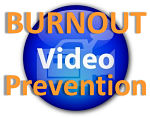 Physician Burnout and the Dangers of Venting
When I deliver the Burnout Proof LIVE Workshop we always have a little discussion about VENTING. Most of the conversation revolves around if venting is healthy or not. About half of any audience will answer "Yes" to that question. I beg to differ.
Venting is very common in some workplaces, but that does not make it healthy or normal. In fact venting can be downright dangerous because it has the power to shackle you to the throne of Einstein's Insanity Trap.
Watch this three minute video to learn more.
READ MORE NOW